Be sure to join us for Happy Homemaker Monday and link up
with our host, Sandra at Diary of a Stay at Home Mom

I hope everyone had a GREAT week. I'm just going to jump in this week because I have a BUSY day ahead.
Imagine that, it's gray, dreary and rainy in the Pacific Northwest 😀 LOL Highs are supposed to be in the 40's and lows in the 30's this week.  I don't mind the cold or even the rain, but the bone chilling wet cold can be a little hard on the bones. But, it gives me the excuse to wear my favorite flannels, Levis and UGG's. There is still a small threat of snow later in the week.

Hot water, oatmeal with bananas and yogurt
THIS WEEK'S TO DO LIST, PROJECTS & APPOINTMENTS


LAUNDRY & CLEANING

We're still working on the flooring and LOL all the domino parts that it entails, so the cleaning this week is minimal and done as we go. Laundry is up to date, vacuuming is done, Christmas reorganization is almost done and donations are even dropped off.



FLOOR PROJECT

Domino parts include the repairing molding or replacing it as well as adding the new pieces that are necessary because the original flooring was laid BEFORE the cabinetry, new thresholds that need to be stained and placed, doors that need to cut off to accommodate the new flooring and thresholds, painting, new caulking, new fittings for the toilets, etc…



APPOINTMENTS, GROCERIES & ERRANDS

I like to get everything done in the real world all on the same day and then get back home to clean up and feel safe again. I will be doing ALL of my list today for the next couple weeks that includes groceries, drugstore, craft store, COSTCO and hardware store. I also have my 10 year oncology follow-up this week.  Unfortunately it is in a county that is under the "extreme" label so there will be no celebratory lunch as originally planned – just a get in and get out. Hubby can't even go with me this year. I don't have food delivery boxes coming this week or next so will be starting R.E.D. (Recipe Experiment Dinners) again.



PAPERWORK & PHONE CALLS

I still have a few of each to make



RECIPE RESEARCH & MENU PLANNING

I have chosen several, but am still digging through my scraps for more



NETFLIX

We're still watching Stargate 1 as reruns, but we also saw the movies Outside The Wire and the 1st episode of Lupin

CABLE –

UNICORN, CALL YOUR MOTHER, AMERICAN HOUSEWIFE, YOUNG SHELDON 911, 911 LONESTAR, L&O SVU, NCIS, NCIS LA, NCIS NEW ORLEANS, BULL, GOOD DOCTOR, RESIDENT, CHICAGO SERIES

I'm still reading SINS by Nadia Lee.  😀 And of course now that I'm into it I am falling asleep quickly and not having much reading time.
I took another painting class with a friend this past week and I'm actually beginning to enjoy these classes 😀 The daisy pail was last week and the Gnome on a stump in the snow was last Saturday.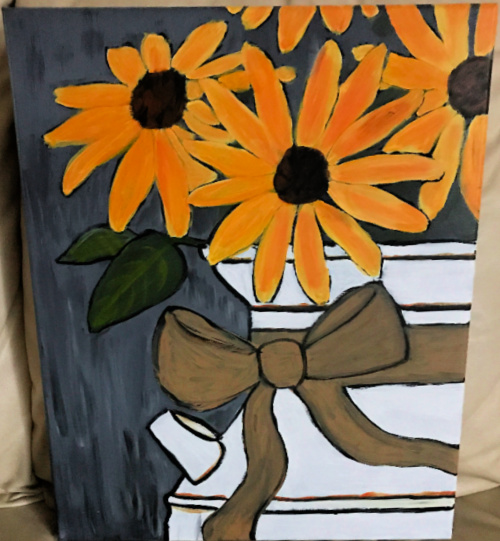 | | | | | | | | |
| --- | --- | --- | --- | --- | --- | --- | --- |
| | MONDAY | TUESDAY | WEDNESDAY | THURSDAY | FRIDAY | SATURDAY | SUNDAY |
| DINNER | CHICKEN TORTILLA SOUP & CHEDDAR BISCUITS | BACON MAC & CHEESE POT PIE | SPINACH SALAD | C.O.R.N. CLEAN OUT REFRIGERATOR NIGHT | CHICKEN DOME POT PIES | BBQ RIBS & COLE SLAW | EVERYTHING BAGEL DUTCH BABY |
| DESSERT | | PEANUT BUTTER CHOCOLATE CRINKLES or PINEAPPLE CHEESE PIE | | | | | |


BROWN BUTTER & SAGE GNOCCHI with SWEET POTATOES & PECANS

FRENCH ONION CHICKEN