Be sure to join us for Happy Homemaker Monday and link up
with our host, Sandra at Diary of a Stay at Home Mom

I hope everyone had a weekend full of sun and fun.  Did you do anything out of the norm? We took a drive on Saturday and then did the mundane things around the house on Sunday. I also got some recipes planned for the next couple weeks and was able to get some photo editing done.
It's gray and dreary with the threat of rain anytime. This week is supposed to be carbon copies every day of the same with highs in the low 50's and low's in the low 30's which isn't too bad until the breeze kicks up.
AND LOL 😀 they are still throwing the threat of snow into the picture for later next weekend.

Hot water, peach yogurt and an apple
THIS WEEK'S TO DO LIST, PROJECTS & APPOINTMENTS


LAUNDRY & CLEANING

Just a load of jeans and one of towels that I'll get done this afternoon when I get back from groceries and errands.



GROCERIES & ERRANDS

Fortunately this week's lists are quite small and should take very little time to accomplish.



PAPERWORK & PHONE CALLS

Lots to do with the whole nightmare SIL pulling her antics again. 🙁



RECIPE RESEARCH & MENU PLANNING:)

Done for a couple weeks other than getting the ones I have chosen ready to publish on the blog.



NETFLIX

TV just doesn't seem to be drawing me in this week.



CABLE

The standard weekly shows

I'm not sure what I'm going to start next.
Last Monday we had a RARE sunny afternoon that led into an AMAZING sunset!! I just can't believe that I was in the right place at the right time for this one! The reflection off the pond was just perfect!!
Then on Saturday we woke up to a break in the storm and a sunny morning so we took a drive up the river to see how things were progressing after last fall's fire.  They're still hauling out tons of burnt trees truck load after truck load, but we still had a nice lunch by the river and finished up at the falls.
The new storm was starting to move in as we headed for home and the guy on the radio was talking about how the new storm and the snow level were dropping.  We didn't get any here on the valley floor, but all the mountains around us are pretty white again.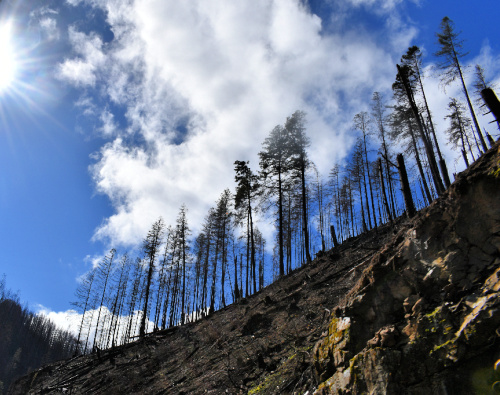 And I finished the highlights on the lilac painting 😀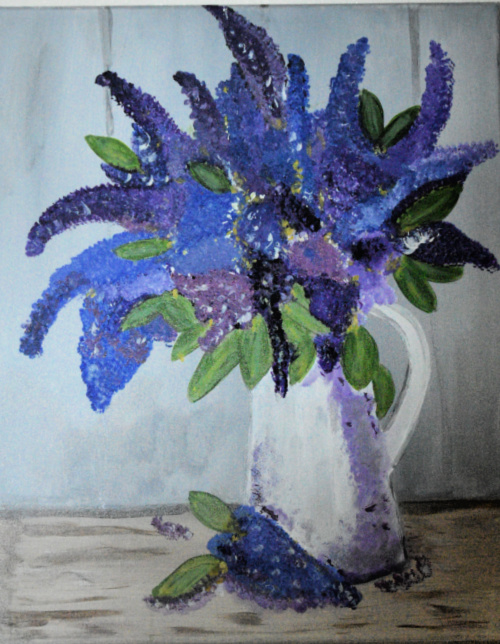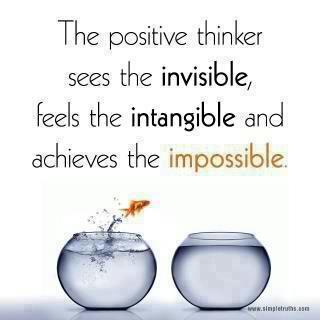 I went recipe surfing on the Food Network's page and these are the recipes I'm going to try for the week. I've made a few changes already to a couple of them. While I know they are great as they are, I did try to simplify ingredients to more common things on hand.

| | | | | | | | |
| --- | --- | --- | --- | --- | --- | --- | --- |
| | MONDAY | TUESDAY | WEDNESDAY | THURSDAY | FRIDAY | SATURDAY | SUNDAY |
| DINNER | JET TILA'S ORANGE CHICKEN | JALAPENO BACON GRILLED CHEESE SANDWICHES and CARLA HALL'S SWEET POTATO TOMATO BISQUE | JET TILA'S TERIYAKI SALMON and REE'S CRISPY FRIED POTATO BALLS | GIADA'S ROMAN CHICKEN and PASTA | BOBBY'S ADOBO CHICKEN and RICE | REE'S RANCH PORK CHOPS SHEET PAN SUPPER | TYLER FLORENCE'S SMOTHERED PORK CHOPS & MASHED POTATOES |
| DESSERT | | JET TILA'S SALTED CARAMEL CHOCOLATE BANANA BREAD | | | | | |


BEEF YAKISOBA
MEXICAN MANICOTTI
PAN SEARED CHICKEN with RUSTIC TOMATO GRAVY & FLUFFY BUTTERED MASHED POTATOES

NOT YOUR GRANDMOTHER'S PARMESAN CHICKEN
BLACKBERRY LEMON CHEESE PIE