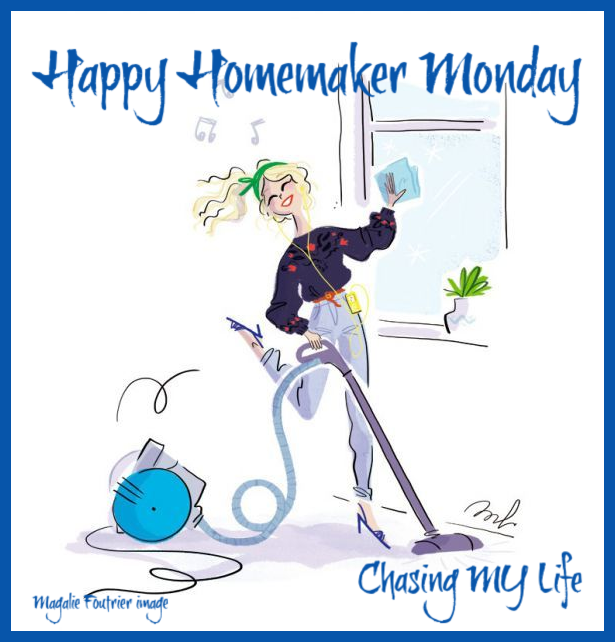 Be sure to join us for Happy Homemaker Monday and link up
with our host, Sandra at Diary of a Stay at Home Mom


I hope everyone had a WONDERFUL week! We had a rare late spring/early summer like week here so hubby and I took a quick trip to the coast and REALLY enjoyed the beautiful weather. It is so unusual for this time of year here that we were able to snag a a beach side room for almost nothing!  We literally turned on the fireplace and slept with the door open and we LOVED hearing the waves ALL night!
We did a little antiquing too and just had a relaxing trip.
Now this week we're back to the highs in the 60's and lows in the 40's. So the sandals are stuck back into the closet and the tennies and sweatshirts back out 😀

Hot Water and Strawberry Pineapple Superfood Smoothie

THIS WEEK'S TO DO LIST, PROJECTS & APPOINTMENTS


LAUNDRY & CLEANING

Laundry is done except for a load of sheets tomorrow.



GROCERIES & ERRANDS

I'm doing most of the groceries & errands today and baking tomorrow.



PAPERWORK & PHONE CALLS

I need to finish the maps and trip planning for the upcoming family reunion and project search.



RECIPE RESEARCH & MENU PLANNING

I will be searching through my new found recipe treasures to see what will be on the experiment list. Many of the "new" recipes are so old that they need ingredient research before I attempt them – I just LOVE those types!

NETFLIX

We have 2 more seasons of Stargate SG1 and then will move on to Stargate Atlantis reruns

DISNEY+

A couple of Mighty Ducks episodes to watch as well as a couple of Secrets of Sulphur Springs and Mandalorian 😀

CABLE I'm starting to weed out and narrow down my focus – too many shows are becoming repetitive or too dark

ALL

the time – GGG, DDD, Beat Bobby Flay, Tournament of Champions, Ellen's Game of Games, Bull, New Amsterdam, The Good Doctor, 911, 911 Lone Star, FBI, FBI Most Wanted, Young Sheldon, The Unicorn, Last Man Standing, MOM, NCIS, NCIS New Orleans, NCIS LA, Magnum PI, MacGyver, Blue Bloods, The Resident, Chicago series

I finally started (I didn't do much reading last week) SPY MISTRESS by Jennifer Chiaverini. I've read her many times in the past with her quilt series and always enjoy her stories.
"enthralling historical novel set during the Civil War era, this time inspired by the life of "a true Union woman as true as steel" who risked everything by caring for Union prisoners of war — and stealing Confederate secrets"…

On our trip I had GREAT success on finding 2 separate vintage recipe boxes FULL of old time recipes! I wish I had taken a picture of the old (1940's ish based on the color and bakelite handle) American Home Maker Menu box before I did a quick paint job.
And hubby is about to start working on my other old hope chest soon!
The drawer in the bottom needs some repairs as does the swinging drawer on the inside. It's painted white now, but if you look 👀 under the blemishes you can see it has also been painted yellow, olive and pink at one time or another over the years. I can't wait to see what the original wood looks like.

It's really kind of sad that this beautiful old "HOPE" chest that has held so many other people's hopes, dreams and memories over the years ended up discarded in an old junk shop. We even found a couple of OLD school pictures caught in the bottom drawer edges. ☹️ But we'll get it restored and it will again be cherished and eventually be full of my quilts and extra blankets. I love that it's completely cedar lined.
My other one is painted candy apple 🍎 red, but I think this one will end up painted teal blue 😊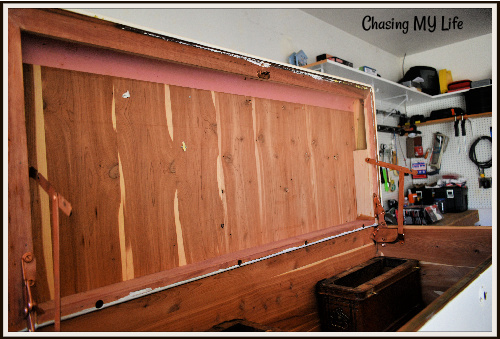 If you look 👀 close there are even a couple of future hidden projects inside – some old vintage sewing machine cabinet drawers that he's turning into part of my kitchen spice cabinet and a great wooden box with beautiful wood that someone had tole painted black! I can't wait to see what it looks like after he sands off that horrible black paint! The unpainted wood on the inside is gorgeous 😀




| | | | | | | | |
| --- | --- | --- | --- | --- | --- | --- | --- |
| | MONDAY | TUESDAY | WEDNESDAY | THURSDAY | FRIDAY | SATURDAY | SUNDAY |
| DINNER | BBQ PORK TENDERLOINS & SALAD | PULLED PORK PASTRY PUFFS & SALAD | CHICKEN & SAUSAGE CASSOULET | C.O.R.N. CLEAN OUT REFRIGERATOR NIGHT | Y.O.Y.O. YOUR ON YOUR OWN | PAN SEARED CHICKEN IN HERB SAUCE & BALSAMIC CARROTS | CHICKEN VESUVIO & BROCCOLI |
| DESSERT | | CINNAMON PEAR PLATZ (GERMAN COFFEE CAKE) | | | | | |



BEER BRAISED CHICKEN
SHEET PAN MAC & CHEESE
PISTACHIO CRUSTED CHICKEN STEAKS