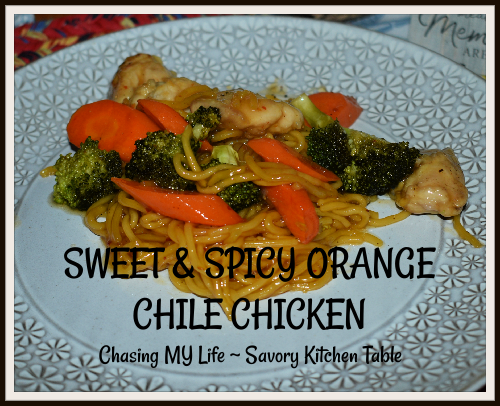 SWEET & SPICY ORANGE CHILE CHICKEN THIGHS
2 tablespoons butter
1 tablespoons avocado oil 
6 boneless, skinless chicken thighs (see note)
FRESH ground sea salt and black pepper 
1/3 cup WONDRA flour
1 cup chicken stock 
1/2 cup Bragg's liquid aminos
1/4 cup cream sherry 
1/4 cup brown sugar 
2 tablespoons hoisin sauce 
2 tablespoons sesame oil 
1 large Vidalia onion, sliced thin
1 small crown of broccoli, cleaned and chopped
1 carrot, peeled and sliced diagonally 
2 tablespoons chili paste 
2 tablespoons minced ginger 
3 cloves garlic, minced 
4 scallions, sliced thin
Prepared Yakisoba noodles
Heat the butter and oil in a Dutch oven over medium-high heat.

Add carrots and broccoli pieces, sauteing 7-8 minutes until softened. With a slotted spoon remove from pan and set aside as you prep chicken.

Add remaining butter and oil to skillet.

Generously sprinkle chicken with salt and pepper.

LIGHTLY dredge in WONDRA flour, shaking off the excess.
Sear chicken until golden on ALL sides.

Remove the chicken to a plate and set aside.

Meanwhile, whisk together the chicken stock, soy sauce, sherry, brown sugar, hoisin sauce and sesame oil in a small bowl. Set aside.

Add the onions, chili paste, ginger, garlic and scallions to the pan and cook, stirring frequently, for 2 to 3 minutes.

Pour in the sauce and deglaze the pan.

Add noodles, stirring to combine.

Return chicken and veggies to pan, simmering 4-5 minutes until heated through and sauce begins to thicken.

Spoon sauce over and around the chicken and noodles.
NOTE:
This recipe originally called for bone-in, skin-on chicken thighs, but I changed it out to make a more user friendly dish 😀