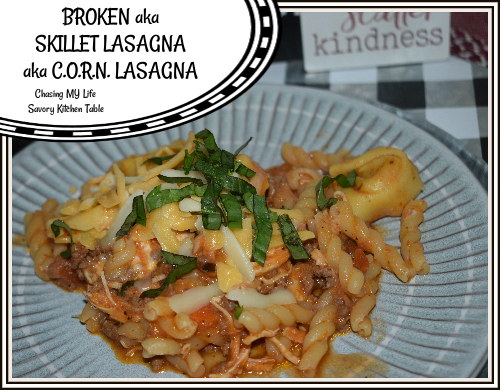 BROKEN aka SKILLET aka C.O.R.N. LASAGNA
12 ounces of your favorite pasta or tortellini or a combo of both
2 tablespoons avocado oil
1 pound lean ground beef
1-2 cups shredded rotisserie chicken pieces
1 tablespoon Italian seasoning
1 medium onion, diced
2 large carrots, FINELY diced
3 garlic cloves, FINELY minced
1 cup beef or chicken broth
2 cups marinara homemade sauce (jar sauce is good in a pinch)
FRESH ground sea salt and black pepper
1 teaspoon red pepper flakes
1/2 cup whole milk ricotta cheese
1 cup FRESH grated mozzarella cheese
1/4 cup FRESH grated QUALITY Parmesan cheese
12-15 basil leaves, chiffonaded
Prepare pasta and/or tortellini per package directions.

In a LARGE skillet or saute pan heat the oil to sizzling.
Add hamburger and brown to ALMOST done.

Add carrots and onions, continuing to saute until browned and carrots are soft. Drain off any excess fat as necessary.

Add garlic and saute a minute or two more.

Season with FRESH ground sea salt and black pepper to taste.

Add red pepper flakes.

Add broth, marinara sauce and chicken pieces. Simmer 10-15 minutes until the sauce slightly reduces to your desired consistency.

Fold in ricotta cheese, mozzarella, basil and pasta, heating through 2-3 minutes more.

Toss to combine.

Garnish with Parmesan cheese and some basil.
NOTE: This is the perfect dish to clean out your crisper drawer and/or pasta bins.