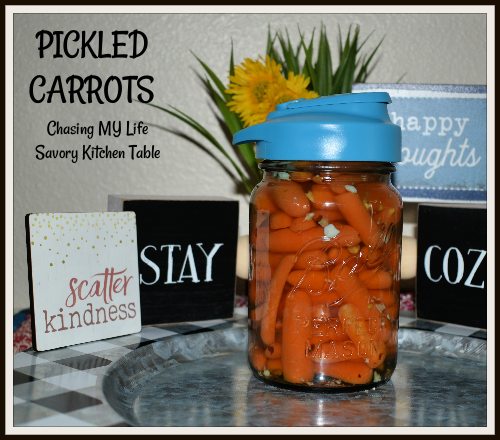 PICKLED CARROTS
Scant 2 cups baby carrots, cut into small sticks
1 SMALL red chili,
1/2 cup champagne vinegar
1/2 cup water
1 LARGE clove garlic, FINELY minced
1 teaspoon sugar
1 teaspoon coriander seeds
1 teaspoon mustard seeds, (optional)
2 teaspoons sea salt
Place carrots and chile in a pint size mason jar.
In a saucepan bring the vinegar, water, garlic, sugar, coriander seeds, sea salt and mustard seeds (if using) and bring to a SLOW boil.
Pour vinegar mixture over carrots.
Cool 15 minutes.
Seal and refrigerate.