TEXAS POTATOES aka FUNERAL POTATOES aka CHEESY POTATO CASSEROLE aka COMPANY POTATOES aka COMFORT POTATOES aka HOLIDAY POTATOES aka HASH BROWN CASSEROLE aka my favorite HEART ATTACK CASSEROLE
This is a delicious recipe that is PERFECT for church suppers, pot-lucks, barbecues… I have been asked over and over for this recipe after events. It is ALWAYS a hit!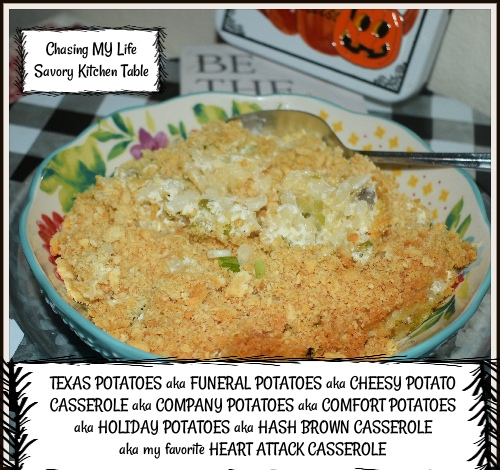 1 LARGE bunch green onions, sliced thin
1 can cream of chicken soup
16 ounces FULL fat sour cream
2 cups shredded cheddar cheese
FRESH ground sea salt and black pepper, to taste
30 ounce package of frozen hash brown potatoes
1/2 cup melted butter
1 sleeve of Keebler or Ritz crackers, crushed
1 cup corn flakes, crushed into crumbs
Preheat oven to 350°.

Spray a 10×15 jelly roll pan LIGHTLY with non-stick cooking spray.
Whisk together the soup, sour cream, 1/4 cup of the melted butter, a VERY generous grinding of both sea salt and black pepper.
Fold in onions and cheese followed by the frozen potatoes mixing until well blended. If mixture is too thick to blend well add another tablespoon or two of sour cream.


Combine the corn flakes with the crackers and mix with remaining melted butter.

Sprinkle on top of potato mixture and bake for 30-45 minutes until potatoes are cooked through and the top is crispy
NOTE: The original recipe calls for using a 9×13 cake pan. We prefer a crispy edge to more of the potatoes so I use a jelly roll pan.