HAMB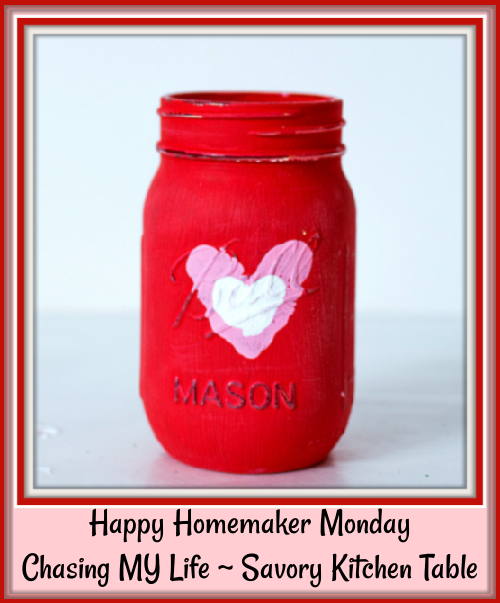 Be sure to join us for Happy Homemaker Monday and link up
with our host, Sandra at Diary of a Stay at Home Mom

HAPPY VALENTINES DAY!
I hope you had a GREAT week and for those of you that are sports fans I hope you enjoyed the SUPERBOWL and are equally enjoying the Olympics. Having been a RAMS fan all my life I'm quite happy with the outcome, though I would have been equally happy with a Bengal's win after their great season. I will make an effort to get around better this week to visit you all. Last week just wasn't my week.
FINALLY some rain for a day or two and the temperatures have dropped back into a normal range. Highs this week will be in the mid 40's and lows in the 30's with very little sun.

Hot water and pineapple yogurt.
THIS WEEK'S TO DO LIST, PROJECTS & APPOINTMENTS


LAUNDRY & CLEANING

I'm going to deep clean the kitchen and do all the hard surface floors to clean up the ants that are back. At least they are mostly dead since I did the Terro traps last week.



GROCERIES & ERRANDS

I have very few of each this week, but will go tomorrow morning.




RECIPE RESEARCH & MENU PLANNING

I'm still doing a bit of research, but have the rest of February planned.



NETFLIX

Hubby want's to check out Free Guy and The Adam Project



PEACOCK

I want to watch Marry Me sometime this week



PRIME

4 days until Mrs. Maisel begins for the season




DISNEY+

I'm finishing season 2 of Sulphur Springs



CABLE

We're finishing up the Olympics we have recorded. I also have a couple Hallmark movies to finish up and a couple cooking shows to watch

I'm about halfway done with Beach House Romance by Cora Seton
So I heard a strange noise in the backyard and went to take a look out the window. This is what I found. I guess it needs to be renamed cat fountain since I've never actually seen a bird bathe in it. On the upside, I haven't seen any mice. 😀
I LOVE these!
with the links to last week's posted recipes, featured party links for the week and upcoming recipes to be posted soon.
| | | | | | | | |
| --- | --- | --- | --- | --- | --- | --- | --- |
| | MONDAY | TUESDAY | WEDNESDAY | THURSDAY | FRIDAY | SATURDAY | SUNDAY |
| DINNER | FILETS & BAKERS | HF ~  YUCATAN CHICKEN CITRUS BOWLS | HF ~ BULGOGI PORK TENDERLOIN | C.O.R.N. CLEAN OUT REFRIGERATOR NIGHT | HF ~ BALSAMIC FIG CHICKEN | PORCUPINE MEATBALLS & SALAD | BLONDE BEEF STEW & TWISTY ROLLS |
| DESSERT | | ZEBRA CAKE – WHITE, DEVIL'S FOOD & RED VELVET with SWISS MERINGUE BUTTERCREAM | | | | | |


TACO SPAGHETTI
HAMBURGER HASH
CHOCOLATE CHIP COOKIES