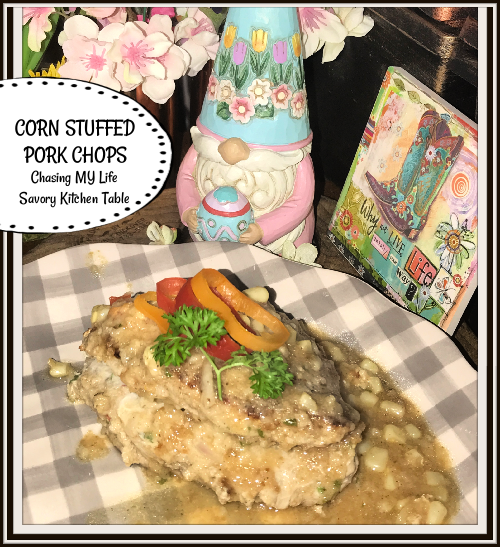 CORN STUFFED PORK CHOPS
3/4 cup FRESH bread crumbs
1 can Green Giant Mexican corn niblets
1 LARGE shallot, diced
2 mini red peppers, 1 diced, 1 sliced
1 tablespoon FRESH chopped Italian Leaf Parsley
4 thick pork chops (preferably bone in)
FRESH ground sea salt and black pepper
1 tablespoon avocado oil
1 tablespoon butter
1/3 cup homemade chicken bone broth
In a mixing bowl blend together the bread crumbs, corn, onion, chopped red pepper and parsley.

Slice a 3 inch pocket into each pork chop.

Fill pork chops with corn mixture.

Rub pork chops well with FRESH ground sea salt and black pepper.

Melt butter and oil over medium-high heat in a large skillet.

Add pork chops, browning 2-3 minutes per side.

Add broth, cover and reduce heat to low, cooking 45 minutes or until cooked through.

Serve with chopped parsley and red pepper rings.