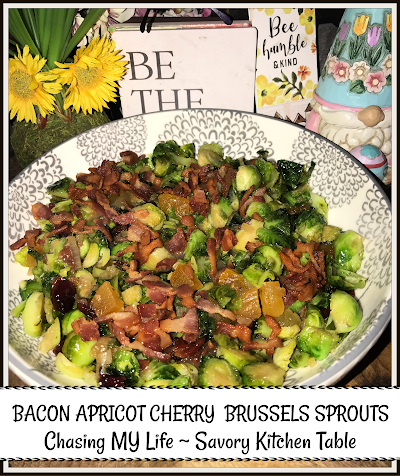 BRUSSELS SPROUTS with BACON, CHERRIES & APRICOTS
4 slices bacon, diced
2 pounds Brussels sprouts, trimmed and halved or quartered
1 LARGE shallot, FINELY chopped
3 tablespoons brown sugar
1 pinch of salt, to taste
2 tablespoons Herbs de Provence seasoning
1/2 cup dried apricots, coarsely chopped
1/3 cherries, chopped
In a large skillet over medium to high heat cook bacon until JUST crisp.

Remove bacon with a slotted spoon to drain on paper toweling.

Add the Brussels sprouts, cut side down and saute 2-3 minutes.

Add the shallots, brown sugar, Herbs de Provence and a pinch of salt. Saute 6-8 minutes, stirring occasionally.

Add apricots and saute 1-2 minutes longer.

Add cherries and mix well.

Sprinkle with bacon before serving.
RECIPE REVIEW
TASTE: Full of flavor.
TEXTURE: Crunchy, yet soft and chewy – very satisfying.
EASE: Easy to Moderate.
APPEARANCE: Appetizing and visually appealing.
PROS: Great for a company meal.
CONS: None that I found!
WOULD I MAKE THIS AGAIN? DEFINITELY Yes.