This makes quite a large cake, but is quite versatile to change the shape, layers or even makes as cup cakes.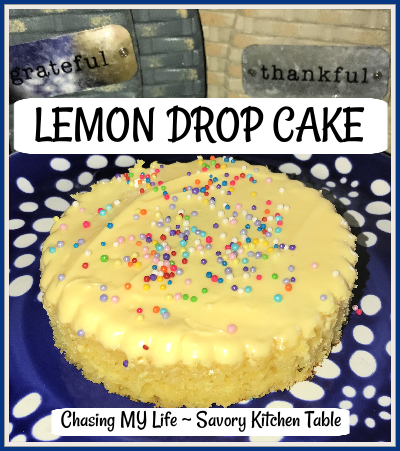 LEMON DROP CAKE
CAKE
6 cups flour
2 tablespoons baking powder
1 teaspoon salt
2 cup unsalted sweet cream butter, softened to room temperature
1 3/4 cups sugar
4 LARGE eggs
2 teaspoon PURE vanilla extract
3/4 cup buttermilk
1/4 cup Limoncello
1 tablespoon lemon zest
1/3 cup FRESH lemon juice
Preheat oven to 350°.

Spray 3 – 9inch round cake pans with non-stick baking spray

In a large bowl, whisk the flour, baking powder, and salt together. Set aside.

Using a standing mixer, beat the butter and sugar together until creamy.

Add eggs and vanilla extract until combined.

Add the dry ingredients on low speed JUST until combined.
With the mixer still running on low, add the buttermilk, lemon zest, and lemon juice and mix again JUST until combined.

Pour batter evenly into cake pans.

Bake 20-25 minutes or until the cakes are baked through.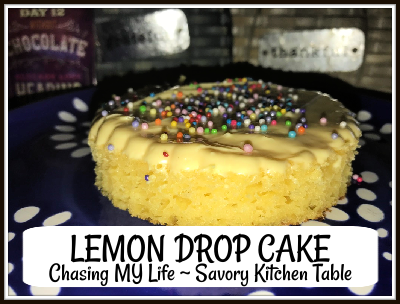 LEMON BUTTERCREAM
3 cups unsalted sweet cream butter, softened
6 cups powdered sugar
2 tablespoons lemon zest
3 teaspoons FRESH lemon juice
3-6 tablespoons heavy whipping cream
Lemons, thinly sliced for toppings (see notes)
Using a standing mixer, cream together ALL of the ingredients until stiff and smooth peaks form.

Slice a thin layer off the tops of the cakes to create a flat surface.

Place 1 cake layer on your serving plate.

Evenly cover the top with about 1 cup of frosting.

Top with 2nd cake layer and evenly cover the top with another cup of frosting.

Top with the third cake layer.

Spread the remaining frosting all over the top and sides.

Scoop remaining frosting into a large piping bag fitted with a star tip and pipe dollops all over the cake.

Pipe larger dollops of frosting onto the top of the cake. (see notes)

Place the sliced lemons in between the larger dollops
CANDIED LEMON SLICES
Candied Lemons are super EASY to make!
1 cup granulated sugar
1 cup water
2 tablespoons FRESH lemon juice
2-3 lemons sliced to 1/8-inch thickness
In a large saucepan, combine the sugar, water and lemon juice. Bring to a boil.

Reduce to a simmer and add lemon slices in a single layer.



Simmer over medium-low for 15 minutes, gently flipping once or twice during the cooking process.



Transfer the lemon slices to a wire cooling rack or waxed paper and let cool.

 Let the candied lemons sit at room temperature for up to 24 hours before storing in an air-tight container.
NOTES:
When you have time, candy some lemons for decorations as an extra treat!

You can save any additional frosting for another use if you don't want to do a bunch of extra decorating.

For a simply iced cake, sheet cake or cup cakes cut this recipe in half.