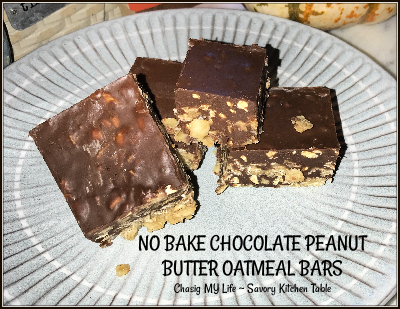 NO BAKE CHOCOLATE PEANUT BUTTER OATMEAL BARS
1 cup butter
½ cup brown sugar, packed
1 teaspoon pure vanilla extract
3 1/4 cups rolled oats
½ teaspoon ground cinnamon
¼ teaspoon kosher salt
1 cup dark chocolate chips
¾ cup chunky peanut butter
Line a 8-inch-by-8-inch baking dish with parchment paper, and set aside.

In a medium saucepan, combine the butter, brown sugar and vanilla extract over low heat until the butter has melted and the sugar has completely dissolved.

Add the oats, cinnamon and kosher salt, cooking and stirring constantly for 4-5 minutes.

Pour half of the oat mixture into the prepared baking dish.

Spread out the mixture evenly, pressing down.

In a small microwave-safe bowl, combine the chocolate chips and the peanut butter. Heat on high in the microwave, in increments of 30 seconds, stirring in between each increment, until melted and fully combined.

Pour MOST of the chocolate mixture into the pan over the pressed oats, reserving about ¼ cup for drizzling.

Top with the remaining oats and drizzle with the remaining ¼ cup chocolate mixture.

Refrigerate AT LEAST 4 hours, but preferably overnight until set.