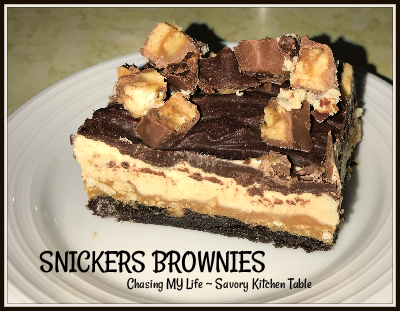 SNICKERS BAR BROWNIES
A YUMMY and SUPER DELICIOUS fudgy brownie base with a layer of caramel, nougat and peanuts throughout that tastes exactly like a Classic Snickers Bar.
1 Box Supreme Triple Chunk Brownie Mix, or flavor of choice
1 – 11 ounce bag Kraft caramel balls
2/3 cup + 2 tablespoons evaporated milk
1-1/4 cup sugar
1 cup cashews, chopped
1/3 cup + 1/4 cup unsalted butter
1 – 7 ounce jar marshmallow creme
1/4 cup creamy Peanut Butter
1 – 16 ounce package milk chocolate chips
1/4 cup heavy cream
4 classic Snickers bars, chopped into small chunks
Preheat oven to 350°.

Prepare the brownie mix as per the package instructions.

Bake the brownies 20 minutes, then remove to COMPLETELY cool.

Add caramels and 2 tablespoons of the evaporated milk to a small bowl.

Microwave on medium heat, stirring every 20 seconds until the caramels have completely melted.

Pour this mixture over the top of the cooked brownies and spread evenly.

Sprinkle nuts evenly over the caramel layer then put into the freezer while you move onto the next part.

Add the sugar, remaining evaporated milk and 1/3 cup butter to a small pan over medium-high heat until it starts to bubble around the outer edge. You want to reach a "soft crack stage". Turn off the heat as soon as you see a rolling boil.

Stir in the peanut butter and the marshmallow creme until smooth.

Pour this nougat mixture over the top of the caramel peanut layer and place back in the freezer.

Sprinkle the chopped Snickers chunks on top of the caramel peanut layer.

In a medium mixing bowl add the chocolate chips, remaining butter and heavy cream. Microwave on medium setting for 20 second intervals until totally melted.

Pour over the nougat/snicker bits layer.

Add back to the freezer for another 10 minutes, just enough to set the chocolate layer.

Cut into squares and serve.