This is another one of the several of my "new to me" recipes are courtesy of my friend Diana's mom and grandma's recipe boxes. This recipe 45 years old and was from her aunt, Carol Booth in 1978. I made only slight alterations to bring it into the 21st century.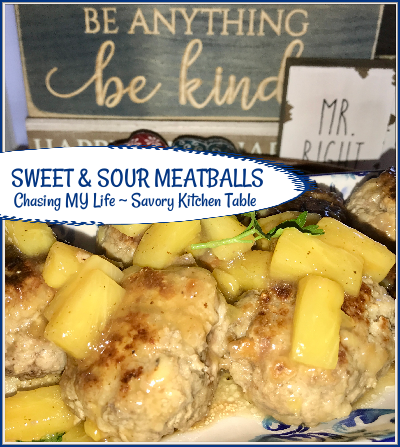 SWEET & SOUR MEATBALLS yields 12-18 meatballs
MEATBALLS
3/4 pound ground beef
3/4 pound ground pork
2/3 cup cracker crumbs
1 teaspoon Johnny's seasoning salt
2/3 cup evaporated milk
Preheat oven to 300°.

Gently combine all the ingredients together.

Roll into meatballs.

Brown meatballs (they will finish cooking through in oven) and transfer to baking dish.
SAUCE
13.5 ounce can pineapple tidbits
2 tablespoons cornstarch
2 tablespoons Bragg's liquid aminos
1/4 cup apple cider vinegar
1 small green pepper, chopped (OPTIONAL)
Drain juice from pineapple pieces into saucepan.

Add liquid aminos and vinegar.

Whisk in cornstarch until smooth.

Fold in green pepper if using.

Cook slowly until thickened.

Pour over meatballs.

Bake 20-30 minutes until heated through.