While working on an estate sale recently I found some old recipe clippings including an old tabloid clipping about the KFC Chicken Batter recipe being leaked by the Joe Ledington, nephew of Colonel Sander's second wife, Claudia. KFC Bigwigs insist the recipe has been kept under lock and key since KFC was founded in 1930.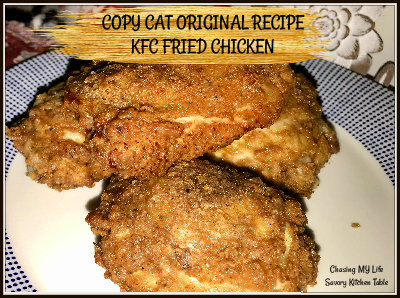 AUNT CLAUDIA'S ORIGINAL KFC RECIPE
2 cups sifted all-purpose flour
FRESH ground sea salt and black pepper
1/2 tablespoon dried thyme leaves
1/2 tablespoon dried basil leaves
1/3 tablespoon oregano leaves
1 tablespoon celery salt
1 tablespoon black pepper
1 tablespoon dried mustard (optional)
4 tablespoons paprika
2 tablespoons garlic salt
1 tablespoon ground ginger
3 tablespoons white pepper
1 cup buttermilk
1 egg, beaten
1 WHOLE chicken cut up into pieces (cut breast pieces in half)
Canola oil
Sift together the flour and all the spices. Set aside.

Whisk together the buttermilk and egg.

Soak the chicken pieces in the buttermilk mixture and let set at room temperature 20-30 minutes.

Remove chicken pieces from buttermilk mixture and allow excess to drop off.

Dip the chicken pieces in the flour mixture coating well and shaking off excess. Allow to sit on a rack for 20-30 minutes.

Meanwhile heat 3 inches of canola oil to 350° in a deep large dutch oven.

Fry 3-4 pieces of chicken at a time 15-18 minutes, turning once until golden brown, maintaining temperature at 350° for even frying. DO NOT CROWD THE PAN.

Transfer chicken to a paper towel lined baking sheet.

Allow oil to return to temperature before adding chicken each time.