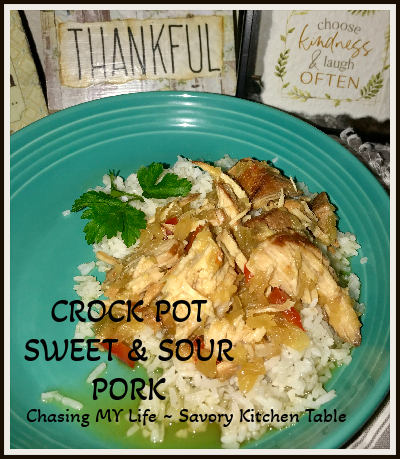 SWEET & SOUR PORK – 6 servings
2 tablespoons paprika
FRESH ground sea salt and black pepper
1-1/2 pounds boneless pork loin roast, cut into 2-3 inch chunks
2 tablespoons avocado oil
1 20 ounce can crushed pineapple
1 LARGE shallot, sliced
1 medium red pepper, chopped
1/3 cup cider vinegar
1/3 cup homemade chicken broth
1/4 packed brown sugar
2 tablespoons Bragg's liquid aminos
2 tablespoons cornstarch
1/4 cup cold water
Sliced green onions, optional
Hot cooked rice, optional
Generously season pork pieces with the paprika, FRESH ground salt and pepper.

Heat avocado oil in cast iron skillet.

Brown pork on all sides.

Remove pork to crock pot.

Add shallot and red pepper and saute 1-2 minutes.

Add shallots and red pepper to crock pot.

Whisk together the pineapple, chicken broth,

vinegar, brown sugar and liquid aminos.

Pour over pork mixture, stirring to combine.

Cook on low 6-8 hours or until pork pieces are tender and shreds easily.

In a small bowl, mix cornstarch and water until smooth; gradually stir into pork mixture.

Cook and stir until sauce is thickened, 1-2 minutes.

If desired, sprinkle with green onions and serve over rice.