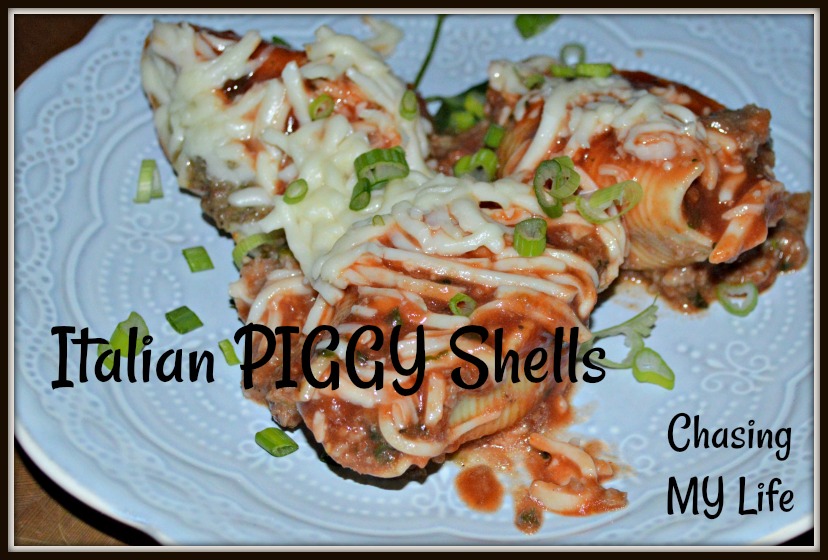 ITALIAN PIGGY SHELLS
SHELLS
1 pound sweet Italian ground sausage
12-15 jumbo shells
1/3 cup diced onions
1/3 cup diced mushrooms
1 tablespoon avocado oil
2-3 cloves garlic, minced
1/4 cup diced celery & leaf tops
3 tablespoons quality DRY sherry
Fresh ground salt and black pepper, to taste
1 batch Balsamella (Italian béchamel) recipe below
2 cups fresh tomato sauce
1/4 cup fresh torn basil (small pieces)
1/3 cup grated Parmesan cheese
1/2 cup grated Mozzarella cheese
Preheat oven to 400°.
Add shells to boiling water for 4 minutes in boiling water. Drain in colander and rinse with cool water. Drain again.

**

Heat avocado oil in skillet over medium-high heat.
Add onions and celery, stirring to cook until soft.
Add pork, cooking until completely browned. DRAIN off any fat.
Add sherry and simmer over medium heat until liquid is completely absorbed, about 5 minutes.
Season with salt and pepper to taste.
Remove from heat and cool.
Meanwhile prepare the balsmella sauce recipe below.
Combine the meat mixture and the balsmella sauce until well blended.
Combine tomato sauce and basil pieces.
Pour half the sauce into the bottom of your baking dish.
Carefully stuff each shell and arrange on sauce in the baking dish.
Cover with foil.

@@

Bake 15 minutes.
Remove foil.
Drizzle remaining tomato sauce over top of all the shells.
Sprinkle with cheeses.
Bake 5 minutes more until cheese is melted and starting to brown.
Garnish with basil.
**NOTE 1: BE SURE TO BREAK DOWN THE MEAT INTO TINY PIECES to make stuffing the shells easier. I use my NINJA to breakdown the meat mixture into a smooth consistency.
@@NOTE 2: This can be refrigerated overnight and baked the following day. Bring to room temperature before baking.
BALSMELLA (Bechamel)
1/2 tablespoon unsalted better
2 tablespoons Wondra flour
3/4 cup whole milk
1/2 teaspoon fresh ground nutmeg
Fresh ground salt and pepper, to taste
Melt butter to a saucepan over medium heat.
Whisk in flour until golden brown.
Whisk in milk and nutmeg until well blended.
Bring to a SLOW simmer, whisking intermittently. Simmer until it thickens, about 10 minutes.
Season with salt and pepper to taste.
Remove from heat and cool slightly.
**NOTE: Cook the shells 4 minutes ONLY – JUST enough to be pliable for filling! They will continue cooking while the dish bakes.
Save