There is just nothing better than homemade, fluffy pancakes doused in butter and PURE maple syrup for a Sunday morning.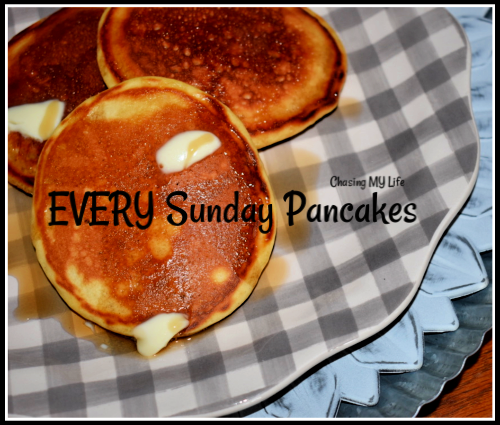 EVERY SUNDAY PANCAKES yields +/- 12 pancakes depending on size
1 ½ cups cake flour
2 tablespoons sugar
1 teaspoon baking powder
½ teaspoon baking soda
1 teaspoon salt
1 cup + 2 tablespoons buttermilk
2 LARGE eggs
¼ cup butter, melted
2 teaspoons PURE vanilla
Whisk together the flour, sugar, baking powder, baking soda and salt in a LARGE mixing bowl.
In another bowl whisk buttermilk and eggs together.
Add vanilla and butter, whisking until blended.
Whisk milk mixture into the dry ingredients JUST until moistened.
Allow batter to stand 10 minutes!!!  This step is a MUST for fluffy pancakes!
Melt butter on medium hot grill.
Lightly grease griddle.
Ladle ¼ cup of batter onto hot griddle, cooking until bubbles begin to pop. DO NOT flip pancakes before seeing air bubbles.
Flip and cook until golden brown.
Serve immediately.