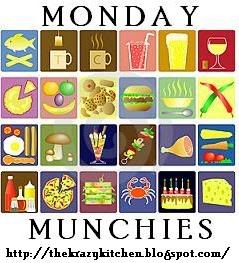 Welcome to Monday Munchies, where you'll find fast and delicious snack recipes that appeal to kids and adults of all ages! First of all, I'd like to let everyone know that I'll usually be posting earlier, with more pictures. You all know I'm a busy, easily distracted college student, and between homework and holiday plans, I didn't notice that my cat decided to hide a part from my camera! For today, I'll be using pictures from an old camera. I think the fact that I managed to fit these recipes into my schedule shows you just how easy and fast they are. 🙂
Today is a two-for-one – one savory snack, one sweet. Together, they make a great little meal, and both are guaranteed kid-approved.
Recipe #1: my favorite Veggie Nachos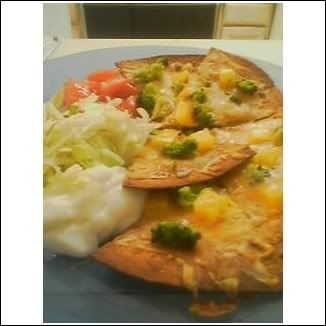 It doesn't get any simpler than this. Spray a pan with your favorite cooking spray (I used canola), plop down a tortilla (whole wheat for me) and slice it into six triangular pieces before baking in a 350 degree oven, two minutes on each side. Once the chips are crispy, pull them out and top them with any shredded cheese and your favorite precooked veggies. I used broccoli and yellow bell pepper in the photo above. Put the chips back in the oven for another minute or so, just until the cheese is melted. Serve with sour cream, lettuce, and tomato, or your favorite salsa
.
—> Health-friendly tips
– You can use low-fat or light cheese with this recipe.
– To make this snack a healthy meal, add cooked leftover chicken.
—> Kid-friendly tips
– Let kids put on their own toppings so they're excited about the veggies
– Do your kids prefer their veggies in big chunks or tiny slivers? You might be surprised at how many they eat if you slice them up the right way!
– Salsa is a great way to add veggies to a kid's diet. Try different kinds, like bean or fruit salsas.
Recipe #2: Fake Baked Apples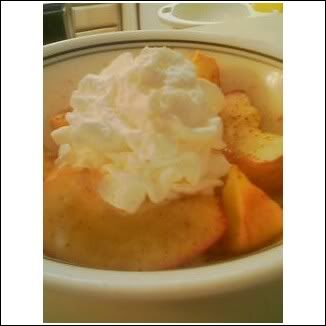 Don't get me wrong, the fruit in this recipe is definitely real, but there's no baking involved! Just thinly slice a small apple into a microwave-safe bowl and top with cinnamon (about 1/2 tsp), sugar (2 tsp), and butter (1 tsp). Microwave for a minute and a half, pausing every thirty seconds to stir. Top with whipped cream and serve.
—> Health-friendly tips
– The butter is optional. Butter and sugar substitutes can also be used.
– This is still a delicious snack or dessert even without the whipped cream!
—> Kid-friendly tips
– If your kid won't eat the apples plain, serve over vanilla ice cream.
– The apples can be peeled before cooking for picky eaters.
Thanks for reading this week's Monday Munchies, and please play along with your own quick, tasty snack ideas!