WOW, WHERE HAS THIS YEAR GONE? I can't believe we're in October already.  I hope you had a great week and weekend with fun fall activities.  It has turned quite warm here again and we spent most of the time indoors watching Movies, Baseball, Racing and some football as well as catching up with the DVR.
OUTSIDE MY WINDOW & THE WEATHER OUTSIDE
This past week was supposed to be better weather and this upcoming week was supposed to be even better… then there was Nate, Hurricane Nate entering the gulf changed everything and we're back to temperatures in the 90's and high humidity.
ON THE BREAKFAST PLATE
Some left over omelette and coffee
AS I LOOK AROUND THE HOUSE / WEEKLY TO DO LIST & HOUSE PROJECTS
I had been using the spare bedroom as a storage area for all the things I have been getting packed and then hubby had an epiphany and NOT a good one.  He pointed out that the boxes and totes were blocking both the window and the closet (DUH! it just never occurred to me) and that anyone looking to buy the house was going to want to see both. So I spent 2 days rearranging the spare bedroom and studio so that NO windows or closets are blocked. I did at least get a few more items into the donation box or given to my neighbor.
LAUNDRY

… just a couple loads

LIVING AREAS

… mostly tidy, but really need to do floors

KITCHEN

… quite clean, but I plan to make a mess soon.

YARD

… mowing and edging

BLOG

… some recipe updating and planing for future posts.  I'm even working on BLOGMAS 2017 plans and recipes

CURRENTLY READING & TELEVISION / DVR

I'm about to finish reading Book #2, Second Chance Girl by Susan Mallery and will move on to Ava Miles Dare Valley #7 The Perfect Ingredient.
We have tried a few of the new shows and are giving them a second (and sometimes a third) chance to decide before we narrow our list down.  There were a couple shows that had characters depart and one in particular that we did not care for how they handled it so we are dropping that show.
Some of the old favorites are already in the DVR line-up:
BIG BANG THEORY and the new YOUNG SHELDON
NCIS, NCIS NEW ORLEANS and NCIS LA
CRIMINAL MINDS
MADAM SECRETARY, SCANDAL
DESIGNATED SURVIVOR
LAW & ORDER SVU
BLUE BLOODS
MACGYVER, SCORPION
HAWAII 5-0
Z NATION
THE GOOD PLACE, THIS IS US, AMERICAN HOUSEWIFE
MENU PLANS FOR THE WEEK
| | | | | | | | |
| --- | --- | --- | --- | --- | --- | --- | --- |
| | MONDAY | TUESDAY | WEDNESDAY | THURSDAY | FRIDAY | SATURDAY | SUNDAY |
| | FRUIT & COFFEE | NOTHING procedure day | FRUIT SMOOTHIE | FRUIT & COFFEE | SCRAMBLED EGGS | BACON & CHEESE OMELETTES | PANCAKES |
| LUNCH | FRUIT & CHEESE | SOUP | MEAT ROLL UPS | SALAD | MEAT & CHEESE | C.O.R.N. | ?? |
| DINNER | PORK CHOPS with PEPPER JELLY SAUCE | CHICKEN & DUMPLINGS | CHICKEN & ONIONS with WHITE WINE CREAM SAUCE | FONTINA STUFFED PORK CHOPS | CHEESY & MUSHROOM CHICKEN | BOURBON HAM BALLS & ORANGE GLAZED BEETS | APPLE POMEGRANATE SALAD with VINAIGRETTE |
| DESSERT | | | | | | | |
SUCCESSFUL RECIPE LINKS FROM LAST WEEK
HEALTH & BEAUTY TIPS
HOMEMAKING/COOKING TIP

ON MY MIND / THINGS THAT ARE MAKING ME HAPPY
YAY!! I'm finally having both of my tests on Tuesday. If all goes well we will know within the next week (one of the tests is a monitor I will where for 2 days that will need to have the results interpreted) which surgery and when I will be having it.  The time of not knowing is hopefully coming to an end.  I AM SO READY TO GET ON WITH LIFE!!!
I do find it amazing how medical technology has allowed us to determine diagnoses and treatments with less invasive procedures and wirelessly.  I am not thrilled about going under anesthesia again and then again for the surgery, but am willing to do whatever it takes to get back to sleeping comfortably in my own bed instead of trying to sleep in a recliner and living life to the fullest.
FAVORITE PHOTO FROM THE CAMERA

I have had the most beautiful butterflies in my garden lately.  They seem to especially love the yellow Lantana. The top one had the prettiest silver iridescent wings.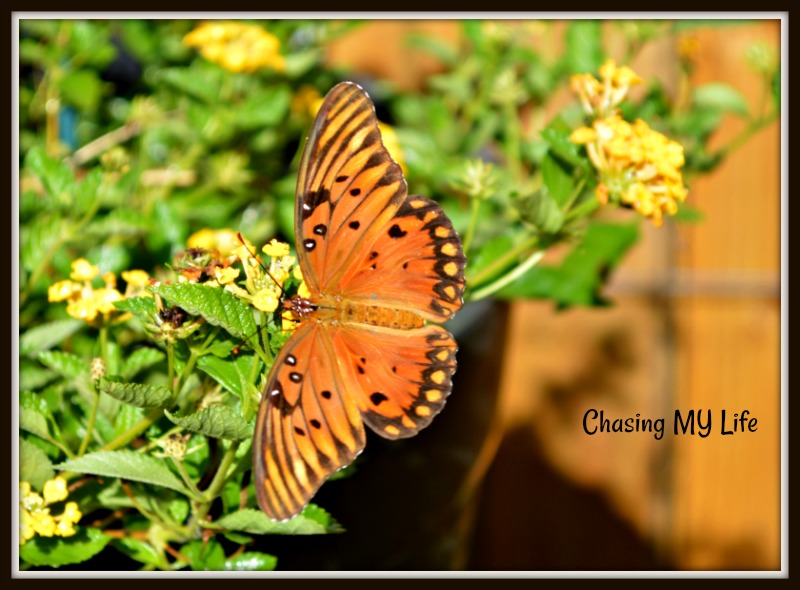 INSPIRATION
Be sure to link up with Sandra at Diary of a Stay at Home Mom for Happy homemaker Monday, Terri at Darling Downs Diaries and with Laura at I'm an Organizing Junkie for Menu Plan Monday.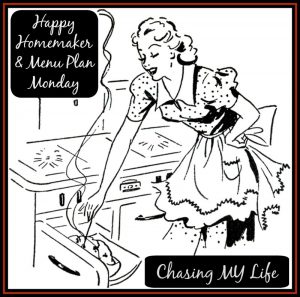 Save
Save
Save
Save