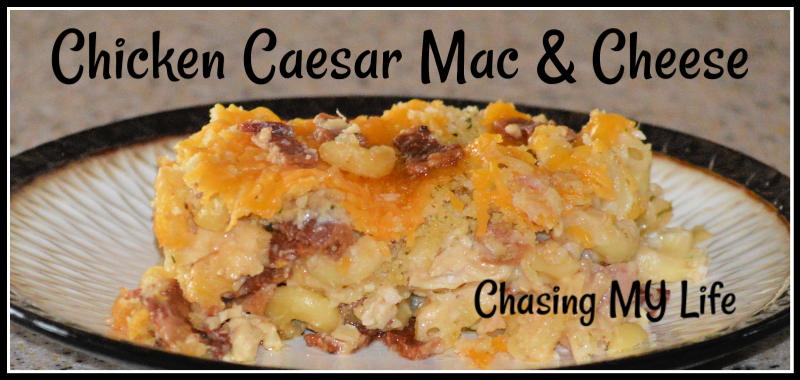 CHICKEN CAESAR MAC & CHEESE
3 cups dry elbow macaroni, cooked according to package directions and drained
3 tablespoons butter
2 tablespoons WONDRA flour
1/2 teaspoon FRESH ground sea salt
1/4 teaspoon FRESH ground black pepper
1 cup milk
1 1/4 + 1/4 cups shredded SHARP cheddar cheese
1/2 cup shredded Parmesan cheese
1/2 cup shredded Swiss cheese
3/4 cup Ken's Caesar salad dressing
1 1/2 cups chopped rotisserie chicken pieces
10 pieces bacon, diced, cooked and crumbled
Add cooked macaroni, chicken and 3/4 of the bacon pieces to a large baking dish.
Preheat oven to 350°.
Lightly spray a 13×9 baking dish with non-stick cooking spray.
In a medium saucepan melt butter over medium heat.
Whisk in flour, salt and pepper until smooth and golden.
Gradually whisk in milk. Bring to a SLOW boil, stirring constantly until thickened.
Stir in the cheeses (except the 1/4 cup SHARP) until well blended.
Stir in dressing.
Pour mixture over macaroni and chicken and fold together until well coated.
TOPPING
1/3 cup Panko
2 tablespoons butter, melted
1 tablespoon minced FRESH parsley
Toss Panko crumbs and melted butter until well blended.
Sprinkle over the macaroni mixture.
Top with remaining cheese.
Top with remaining bacon pieces.
Bake uncovered for 30 minutes.
Sprinkle with parsley and serve.