Be sure to join us and link up with
Sandra at Diary of a Stay at Home Mom for Happy homemaker Monday
and with Laura at I'm an Organizing Junkie for Menu Plan Monday.
GOOD MORNING everyone!  We had a lazy weekend here other than the laundry and the deep clean I did to catch up after Snowmageddon and the trip we took after to get away.  We take trips instead of presents for our birthdays and hubby had a significant birthday last week so we took off for the beach to get away after the stressful power outage snow week. Unfortunately, we came back from that trip needing a rest.  I'm hoping to edit the pictures from that trip this week and get a post done this week.

OUTSIDE MY WINDOW & THE WEATHER OUTSIDE  It's still a bit foggy and gray, but supposedly it will get sunny today. The snow from SNOWMAGEDDON 2019 should finish melting today with that sun!  There are even a couple days predicted to be in the 60's this week LOL 😀 we will see if they actually materialize though!  The weather seems to change way too fast lately and the forecast is only about 10% reliable.

ON THE BREAKFAST PLATE A cup of hot water, banana and mixed berry yogurt.
AS I LOOK AROUND THE HOUSE/WEEKLY TO DO LIST & HOUSE PROJECTS/CRAFT BASKET/APPOINTMENTS

LAUNDRY…

ALL caught up



LIVING AREAS…

clean and tidy



KITCHEN…

empty dishwasher



YARD…

too soggy, fence repairs



BLOG…

a couple recipe updates, trip posts after some photo editing



CRAFTS/PROJECTS…

??

APPOINTMENTS…

some new blood work



TO DO…

groceries, errands…



ON MY MIND / THINGS THAT ARE MAKING ME HAPPY
2017 was a rough year.  My MIL passed away on the 7th and it was difficult to process. Mom was only 4 days shy of her 97th birthday so doing the math, today would have been her 99th birthday.  Can you believe she was almost 90 in this picture taken at a family camp out several years ago? She lived a VERY FULL and mostly happy life leaving behind a long legacy of love and family.  While at that age you know it's natural causes and inevitable, it never lessens the severity of the impact and we still miss her, A LOT!  She had been saying for years that she was ready to go, but we just never wanted it to happen. Just knowing I'll never be able to hear her sweet voice again still leaves me with a heavy heart.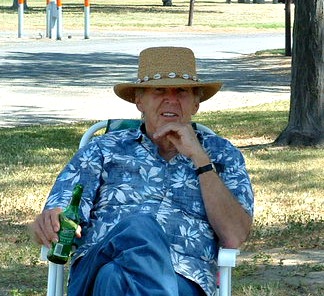 Then on the 21st my favorite BIL, Ray, entered hospice as his cancer continued to eat away at his body.  He passed quietly surrounded by family on the 25th.  Ray was one of the best men I have EVER known in my entire life. I LOVED talking to him for hours – we have so many beliefs and ideals in common, almost like we shared the same thought process despite the HUGE age difference (hubby is almost 20 years older than me and his sister is 7 years older than him and my BIL was 3 years older than her – you get the picture). He also lived a VERY FULL and happy life also leaving behind a long legacy of love and family.
His death hit me the hardest.  I think because we were so close and were both diagnosed with reproductive cancers within weeks of each other. He did everything right, just a bit too late for when his was diagnosed. I have had to struggle with moving past the Survivor's Guilt of a high mortality cancer for the past 8 years and 99% of the time I'm doing well with it, I just wish he was walking that same path with me!
I REALLY MISS THEM BOTH!  MARCH IS ALWAYS A DIFFICULT MONTH.
INSPIRATION
HEALTH & BEAUTY TIPS
HOMEMAKING/COOKING TIP
MENU PLANS FOR THE WEEK
MONDAY – TURKEY & RICE SOUP with BISCUITS
TUESDAY – TOMATO BISQUE with PARMESAN CRISPS
WEDNESDAY – CHICKEN & NOODLE SOUP with BUTTERED CROUTONS
THURSDAY – CREAM OF POTATO and HAM SOUP with CORN BREAD
FRIDAY – C.O.R.N.
SATURDAY – LEMON PEPPER CHICKEN & SALAD
SUNDAY – COWBOY GOULASH 
SUCCESSFUL RECIPE LINKS FROM LAST WEEK
FEATURED PARTY LINKS FOR THIS WEEK