SALMON TERIYAKI adapted from JET TILA
SAUCE
2 ounces sake
3 ounces mirin
4 ounces Bragg's liquid aminos
3 tablespoons (45 grams) sugar
1 tablespoon cornstarch combined with 1 tablespoon water
Mix all the ingredients in a small saucepan and bring to a simmer over medium heat; whisking 1 to 2 minutes until the sugar dissolves and the sauce bubbles and thickens slightly.

Set it aside to use on the salmon and store any leftovers in the refrigerator.
SALMON
2 pounds salmon filets, deboned and scaled
Salt and pepper
2 tablespoons avocado oil
3 scallions, sliced on the bias, for garnish
Steamed white rice, for serving
Pat the fish dry with a paper towel, cut into four 3-inch pieces, and season it with salt and pepper.

Heat the oil in a large heavy-bottomed skillet over medium-high heat. Once you start to see white smoke, lay the fish flesh-side down in the skillet. Move the fish around constantly while cooking to keep it from sticking. When the fish is medium, 4 to 6 minutes, turn with a spatula only once.

Cook the other side for another minute.

Add the teriyaki sauce to the pan and reduce the heat to low. The sauce will begin to simmer and reduce.

Tilt the pan around a few times and turn the fish until it's well coated with the sauce.

Serve with rice on the side.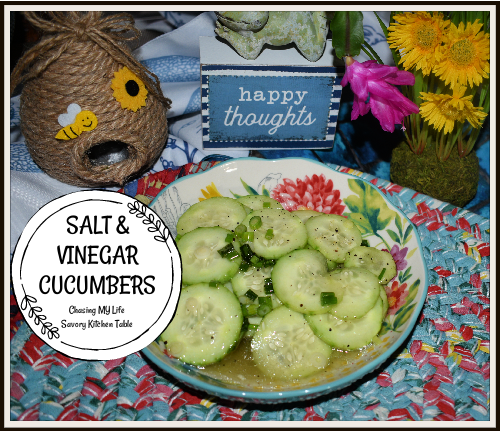 This quick and easy salad is essentially just a big ol' bowl of quick-pickled cucumbers, which is exactly why it's so tasty. It makes a fresh, crunchy and acidic side to any main dish. Assemble it the night before and it will be even more perfect.
SALT & VINEGAR CUCUMBERS
1/4 cup rice wine or white vinegar
2 tablespoons avocado oil
2 teaspoons sugar
1 1/4 teaspoons flaky sea salt, plus more as needed
FRESH ground black pepper
4 medium cucumbers
1/4 cup chopped fresh dill 

Place the vinegar, oil, sugar, salt, and a few grinds of pepper in a large bowl and whisk to combine. 
Slice the cucumbers into 1/8-inch-thick rounds.

Place them in the bowl, add the dill, and toss to combine.

Cover and refrigerate for at least 30 minutes or overnight to allow the flavors to meld together.

Taste and season to taste with more salt and pepper as needed before serving.