This is day 1 of BLOGMAS 2021. We've all had ANOTHER stressful year and need some fun. I want this year especially to be relaxing and stress free. I'm STILL not going to do a linky. Just comment on my post and let me know you're playing along and I'll be sure to visit and comment on your post. Here is a list of the prompts.

I didn't forget LOL 😀 But, I did get caught up in today's topic so I'm running a bit late! So the question is when do you start decorating for Christmas?
I'm always raring to go before Thanksgiving, but restrain myself to wait until after dinner is at least cleaned up!
Our local (mom and pop – family run) Christmas tree farm opened today and we were there when they opened. Last year they sold out in 3 weeks flat and we missed out on a live tree, though we did get our traditional wreath. We used our tried and trued artificial tree and despite being there when they opened this morning decided on the artificial tree again this year because of the newly cleaned carpets and only went with wreaths and a spray for indoors for the tree scent.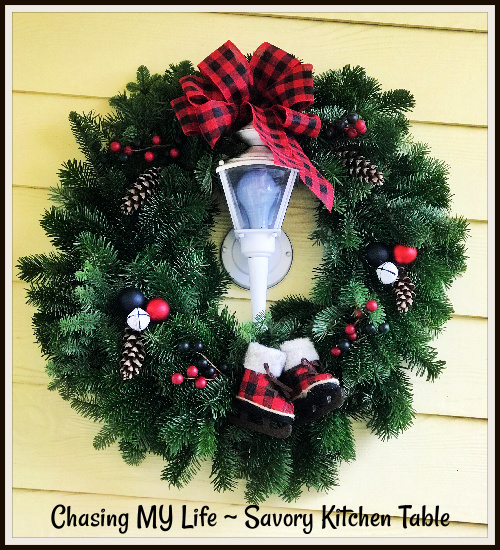 This is my favorite wreath for today. I just love the buffalo plaid and little ice skates. Wreaths symbolize that loves comes full circle – especially at this time of year.

We had a few errands to run after the tree farm and then had lunch at a favorite haunt that was actually FULL of people who had just come from the tree farm. It was fun to see all the cars and trucks with their trees in the beds or tied to the top. 😀
I topped the day off with my appointment for the Family and Friends holiday open house. It's a small boutique store so they are still doing the open house by appointment to meet the COVID requirements. I arrived a few minutes early for my appointment time and was rewarded with having the store to myself! 😀
Obviously I start as soon as I can to decorate, but it takes a few days and I take the time to enjoy it instead of turning it into a chore. We did get the tree up today, but will wait until tomorrow afternoon to do the lights and garland as well as maybe the ornaments depending on time. I'm starting tomorrow off with the REDISCOVER DOWNTOWN SHOP SMALL event and hopefully will finish off my Christmas shopping. But, if I don't I will also be going to the annual Christmas Fair at the fairgrounds on Friday. I believe I have done my part for shop local with mom and pops.
So, when do you decorate?