Is it a soup or is it a stew? The French call it a casserole. Whatever you call it, it is a hearty warm dish for a cool fall evening!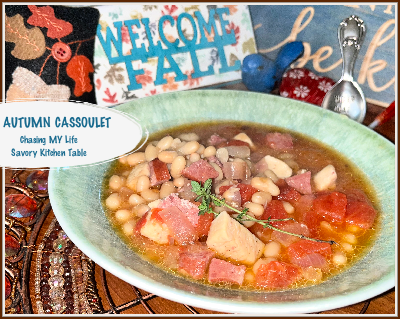 AUTUMN CASSOULET
3 tablespoons butter or avocado oil
1 pound beef kielbasa, cut into 1/2 inch pieces
1 pound stew meat (or pork pieces, or chicken – it's up to you)
1 small red onion, diced
2 medium carrots, small diced
2 cloves garlic, FINELY minced
2 cans petite diced tomatoes
2 cups homemade chicken bone broth
FRESH ground sea salt and black pepper, to taste
2 cans navy beans, drained and rinsed
Melt butter in saute pan.

Add onions and carrots. Simmer 3-5 minutes.

Generously season with FRESH ground sea salt and black pepper and add garlic.

Add stew meat and kielbasa pieces, stirring well and simmering another 5 minutes or until meat is cooked through.

Add chicken broth, beans and tomatoes with juice. Simmer 10-15 minutes until heated through.

Serve over mashed potatoes or as a soupy stew.
NOTE: If you prefer a thicker stew like consistency, use a 3rd can of beans, but drain them well and run them through a food processor with a 1/4 cup of the broth making a paste. Add this paste along with the beans and tomatoes.