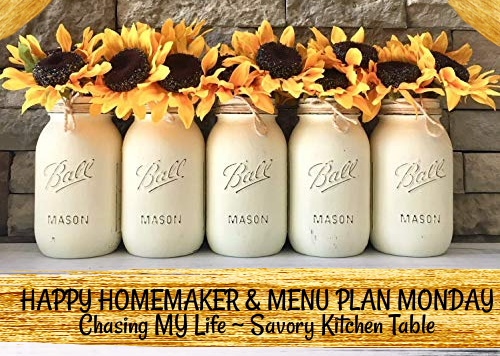 Be sure to join us for Happy Homemaker Monday and link up with our host, Sandra at Diary of a Stay at Home Mom

Imagine that, it's cold, gray and foggy here in the Pacific North West. We're slated for a week of low 50's with rain and showers all week. You know what that means? It means a week of soft, cozy flannels and maybe even an afternoon or two of curling up with a good book. 😀

There has been A LOT going on and I've been extremely busy, but weighing heavy on my mind is some health concerns with my mom and 2 different uncles. Prayers are needed for all of them.
On the home front I can't believe Thanksgiving is only 10 days away. Fortunately, we aren't planning a big one, but the meal I ordered for the day has been mis-delivered and I'm having to pivot on the menu.


I actually have a slow morning planned, well maybe not slow, but at least I don't have to leave before 11AM for a change. So I'm having some oatmeal and a bit of coffee this morning.
THIS WEEK'S TO DO LIST, PROJECTS & APPOINTMENTS


LAUNDRY & CLEANING

Despite being busy, I'm actually caught up on both laundry and cleaning 😀



GROCERIES & ERRANDS

I did the grocery store yesterday and have no other errands except a doctor appointment and hair cut later this week.



PAPERWORK, PHONE CALLS, PROJECTS & TRAVELS

SO much to do, but am kinda waiting to hear about one uncle in particular that may influenece things this week.



RECIPE RESEARCH & MENU PLANNING

totally up in the air right now



| | |
| --- | --- |
| WHAT'S ON THE DVR/TV | Christmas movies and baking shows primarily along with catching up on FEAR the Walking Dead and Justified |
I'm STILL working on Marie Force's WILD WIDOWS #4. I keep falling asleep before I finish even a paragraph.

| | | | | | | | |
| --- | --- | --- | --- | --- | --- | --- | --- |
| | MONDAY 11/13 | TUESDAY 11/14 | WEDNESDAY 11/15 | THURSDAY 11/16 | FRIDAY 11/17 | SATURDAY 11/18 | SUNDAY 11/19 |
| | HOT WATER & YOGURT | | | | | | |
| | CHARCUTERIE SPREAD FOR CRAFT NIGHT |  BAKED ITALIAN MEATBALLS & PASTA with VODKA SAUCE |  BRISKET BLACK BEAN CHILI |  CHICKEN TEMPURA & SALAD |  MEATLOAF, MAC & CHEESE and ROASTED CARROTS |  CORN/YOYO clean out fridge or you're on your own |  SPINACH ARTICHOKE CHICKEN |
| |  JEWELRY CHRISTMAS TREES | | | | |  PILLOW PAINTING with a FRIEND | |
| | APPLE CORNBREAD CRISP and CARMELITAS and MAPLE BACON BARS | | COCONUT CHOCOLATE CHIP MACADAMIA NUT COOKIES | | | | |

We went axe throwing and out to dinner with a group of friends on Saturday night and then I was at an Eagle's fundraising event on Sunday. We had a great time at both. Axe throwing was fun, but not something I would do on a regular basis – so cross that off the bucket list. It was Niki's first BIG night out since she got her walking boot after the ankle replacement. There were even a few BULL's EYES thrown.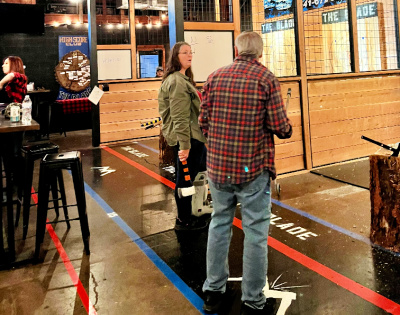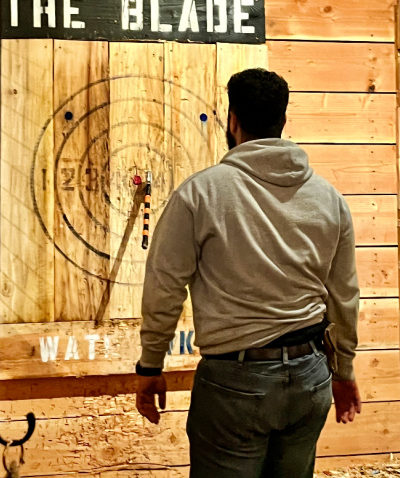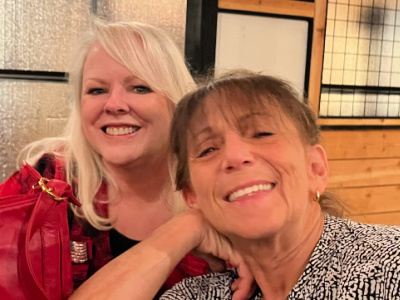 Sunday was a create-N-sip picture painting that I will have to finish later this week (I still have MANY details to add as well as the snow storm), but am fairly happy with. One of my besties added her IRL dog to her picture and it is truly uncanny how much it looks like her dog, Daisy! There were so many fun interpretations.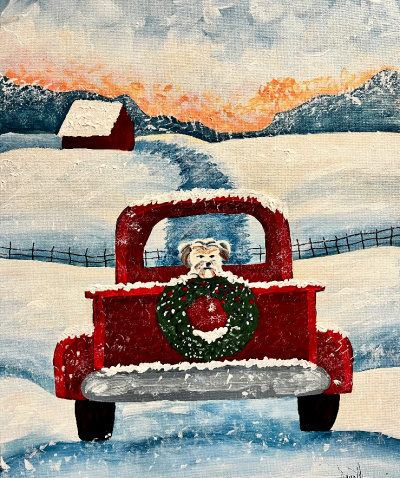 STILL WORKS IN 2023 OR 2024 😀