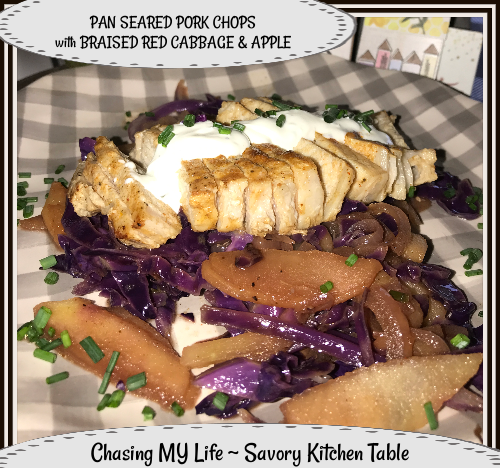 PAN SEARED PORK CHOPS with BRAISED RED CABBAGE & APPLE
1 + 1 tablespoon butter
1 tablespoon avocado oil
2 boneless pork steaks
1 SMALL red onion, halved and THINLY sliced
1 LARGE clove garlic, FINELY minced
1/2 pound red cabbage, cored and THINLY sliced
2 LARGE apples, 1 cored & sliced the other cored and grated
1/2 teaspoon onion powder
1/2 teaspoon garlic powder
1 teaspoon smoked paprika
1/2 teaspoon cayenne pepper
FRESH ground sea salt and black pepper, to taste
1/3 cup hot water
1 1/2 teaspoon Better Than Bouillon beef base
1 tablespoon apple cider vinegar
2 green onions, minced and separated
Melt 1 tablespoon butter and oil in a large skillet over medium high heat.

Pat pork steaks dry.

Whisk together the FRESH ground sea salt, black pepper, onion powder, garlic powder, paprika and cayenne pepper until well blended.

Generously season pork steaks on both sides with the seasoning mix.

Add the pork steaks to the skillet searing 2-3 minutes on each side.

Transfer pork steaks to platter and keep warm.

Add the remaining butter to the skillet.

Add the onions and cabbage to the pan, 3-4 minutes until slightly softened and beginning to caramelize.

Whisk together the beef base, warm water and vinegar.

Add vinegar mixture to pan, stirring to blend.

Add apple pieces topped with the pork steaks, cover and simmer 5-6 minutes to soften apple and reheat pork steaks. MOST of the liquid should cook off, but DO NOT BURN.

Slice pork and serve over cabbage mix.
RECIPE REVIEW
TASTE: Sweet & Tangy
TEXTURE: Tender caramelized cabbage, onions and apples topped with fork tender pork tenderloin. 
EASE: Moderate.
APPEARANCE: Appetizing and visually appealing.
PROS: Great meal for company.
CONS: None that I found!
WOULD I MAKE THIS AGAIN? DEFINITELY Yes.