Pozole or Posole can be prepared in many ways, but all variations include a base of cooked hominy in broth. Hominy is produced from dried maize (corn) kernels.

Typically pork, or sometimes chicken, is included in the base. The traditional spelling with the "z" is the Mexican spelling and the Americanized spelling is usually with the "s".
The three main types of pozole are white, green and red. White pozole is the preparation without any additional green or red sauce. Green pozole adds a rich sauce based on green ingredients including tomatillos, cilantro, jalapeños or pipits. Red pozole is made by adding a red sauce made from a combination of chiles like ancho, piquin or guajillos.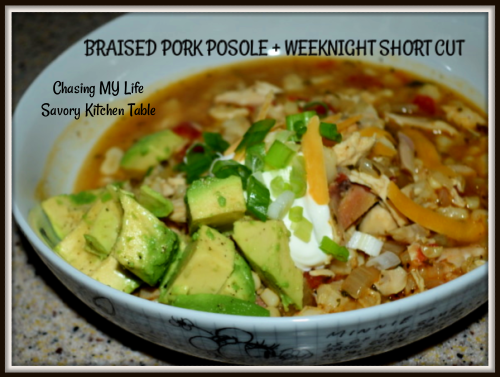 BRAISED PORK POSOLE + WEEKNIGHT SHORT CUT
1 tablespoon ground cumin
1 tablespoon Mexican Oregano
2 teaspoons FRESH ground sea salt
1 4 pound boneless pork shoulder, cut into 7-8 pieces
2 tablespoons avocado oil
8 cups chicken broth (I like homemade bone broth)
7-8 Chiles de Arbol, stemmed (seeded if you like)
1 large white onion, chopped
5-6 cloves garlic, minced
1 14.5 ounce can fire roasted diced tomatoes
1 large can white hominy, chopped (you don't have to chop this if you like the large pieces – we don't though so I chop them smaller)
1-2 cans white shopeg corn
Preheat oven to 350°.
Whisk together the cumin, oregano and sea salt.
Rub pork with seasoning mix, pressing into the meat.
In a large dutch oven (cast iron if you have it), heat 1 tablespoon of the oil over medium heat.
Sear pork on all sides until browned.
Add 1 cup of the broth.
Cover and bake 2 hours.
Remove pork from broth and strain liquid, discarding solids and skimming fat from the top.
Shred pork with 2 forks.
Add chiles to the now empty pan and cook over medium heat until they puff up.
Transfer chiles to blender and add 2 cups of broth. Process until smooth.
Add remaining oil to the pan.
Add onion and garlic, stirring occasionally until tender.
Add pork, reserved cooking broth, pureed chiles, tomatoes, shoepeg corn, chopped hominy and remaining broth.
Simmer 45-60 minutes.
Garnish as desired.
GARNISHES:
chopped avocado
shredded cheese
chopped cilantro
chopped green onions
sour cream
WEEKNIGHT SHORT CUT
Substitute the pork for shredded rotisserie chicken. This step saves 2 1/2 hours!
Substitute the individual spices for a Taco Bell Pork Carnitas or Carne Asada seasoning package.