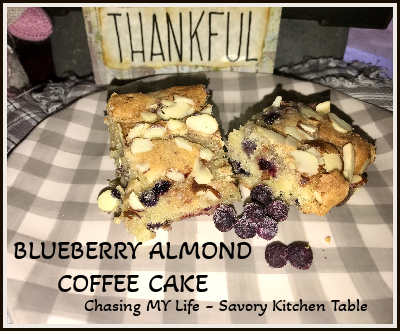 BLUEBERRY ALMOND COFFEE CAKE adapted from SLOW ROASTED ITALIAN
Bursting with blueberries and the perfect balance of flavors with the crispy almonds. Make this easy coffee cake recipe for any occasion!
2 cups granulated sugar
3 LARGE eggs, room temperature
12 tablespoons (1 1/2 sticks) salted butter, room temperature
1 teaspoon PURE almond paste
1 tablespoon PURE vanilla extract
2 cups all-purpose flour
1 teaspoon baking powder
1 1/2 cups (12 ounces) FROZEN small WILD blueberries, thawed and drained WELL
1/2-1 cup sliced almonds
Preheat oven to 350°.

Spray a 9×13 baking pan with non-stick cooking spray and set aside.

Beat sugar and eggs for 5 minutes with a mixer on medium. The volume of mixture will increase by almost half and will be thickened and light in color.

Add butter and extracts, beating 2 more minutes.

Gradually add flour and beat until just combined.

FOLD in blueberries with a spatula.

Pour and smooth batter into prepared pan.

Sprinkle almonds on top.

Bake for 40-45 minutes until a toothpick comes out clean.

Allow to cool COMPLETELY before serving, or the cake will crack.

Use a serrated knife to cut the cake.
NOTE: The cake freezes really well. Wrap individual pieces (so you can snack as desired) in plastic wrap and then place in a resealable freezer bag. Allow thawing for 10-15 minutes on the counter before eating.