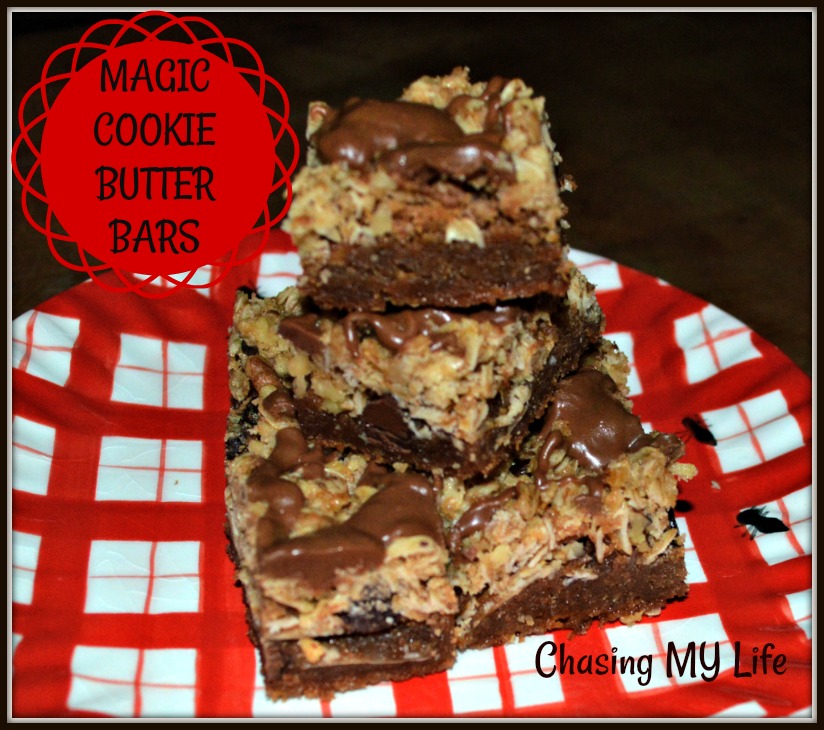 MAGIC COOKIE BUTTER BARS
Years ago one of my VERY favorite treats were Eagle Brand 7 Layer bars A.K.A. as Magic Cookie Bars with sweetened condensed milk, BUT, they were so heavy and calorie packed. This recipe is a WONDERFUL substitute for that recipe and the bars are still moist and tender AND they taste amazingly similar – kind of like a loaded Blondie that strives to be overindulgent! This recipe also makes smaller portion which is great for just 2 people
BARS
1/2 cup unsalted butter, melted
1 large egg
1 cup packed brown sugar
2 teaspoons PURE vanilla extract
2 teaspoons QUALITY cinnamon (I use Red Ape)
Heaping 1/3 cup smooth Cookie Butter
3/4 cup all-purpose flour
pinch salt
1/4 cup golden raisins
1/4 cup milk chocolate chips
1/4 cup roasted coconut pieces
Preheat oven to 350°.
Line an 8-by-8-inch pan with aluminum foil, spray with non-stick cooking spray and set aside.
Melt 1/2 cup butter and allow to cool slightly.
Add the egg, brown sugar, vanilla and cinnamon, whisking until smooth.
Add the heaping Cookie Butter, and stir to blend.
Add the flour and salt, stirring until just combined DO NOT OVER MIX!!!! – these are like brownies and overtaxing will make them tough.
Pour batter into prepared pan, smoothing the top lightly with a spatula.
Sprinkle evenly with the chocolate chips, raisins and coconut.
Set pan aside while you prepare the streusel.
STREUSEL
1/4 cup unsalted butter, softened
1/2 cup whole rolled old-fashioned oats DO NOT USE quick or instant oats
1/4 cup packed brown sugar
2 tablespoons granulated sugar
2 tablespoons all-purpose flour
1-2 teaspoonS cinnamon, to taste
2 tablespoons Cookie Butter, melted for final drizzle after baking
2 tablespoons milk chocolate chips
Using the same bowl you made the batter in add all the streusel ingredients except the 2 tablespoons cookie butter and work the mixture with a spoon, a pastry cutter, or your hands until small pebbles form.
Sprinkle streusel evenly over top.
Bake for about 30-40 minutes, or until center is set and not jiggly; and the edges are set and have pulled away slightly from sides of pan. Test with a toothpick. If it comes out mostly clean, you're good to go. EVERY oven is different so start checking these at the 30 minute mark.
After pulling pan from the oven, heat 2 tablespoons of Cookie Butter and 2 tablespoons milk chocolate chips in the microwave to melt, about 15 seconds.
Immediately and evenly drizzle Chocolate Cookie Butter over the top of bars.
Allow pan to cool for at least 30 minutes cutting.
Lift out foil and place on cutting board.
Slice and serve.
Store bars in an airtight container for up to 1 week at room temperature, or up to 3 months in the freezer.
LINKING WITH:  CELEBRATE YOUR STORY, CRAFTASTIC MONDAY, DISHING IT & DIGGING IT, NIFTY THRIFTY SUNDAY, SHOW & TELL, SUNDAYS AT HOME, SUNDAY'S BEST, THAT DIY PARTY, JCOOKING & CRAFTING WITH J&J, INPIRATION MONDAY , INSPIRE ME MONDAY , MADE BY YOU MONDAY, MAKE IT PRETTY MONDAY, MELT IN YOUR MOUTH MONDAY, MERRY MONDAY, MIX IT UP MONDAY, MOTIVATE ME MONDAY, PROJECT INSPIRED, SHOW AND SHARE, TUTORIALS & TIP , DIY TUESDAYS, LOU LOU GIRLS FABULOUS PARTY, THE SCOOP, TREASURE BOX TUESDAY, TUESDAYS AT OUR HOME, TUESDAYS WITH A TWIST,CREATIVE INSPIRATIONS, SHARE YOUR CUP , WINTER BLUES WEDNESDAY, WONDERFUL WEDNESDAY, SHOW ME WEDNESDAYS, WOW US WEDNESDAY , CREATIVE CIRCLE, DAGMAR'S PARTY, HOME SWEET HOME, FAVORITE THINGS, GRACE AT HOME, HOME MATTERS, PIN JUNKIE PIN PARTY, TALK OF THE TOWN, BLOGGER'S PIT STOP, HANDMADE HANGOUT, PRETTY PINTASTIC PARTY, SHARE IT ONE MORE TIME, SWAY SHAREFEST, WHAT TO DO WEEKENDS PARTY, BOUQUET OF TALENT PARTY, INSPIRE-BE-INSPIRED, RAE GUN BLOCK PARTY, I'M LOVIN' IT, THIS IS HOW WE ROLL THURSDAY, FULL PLATE THURSDAY, FOODIE FRIDAY