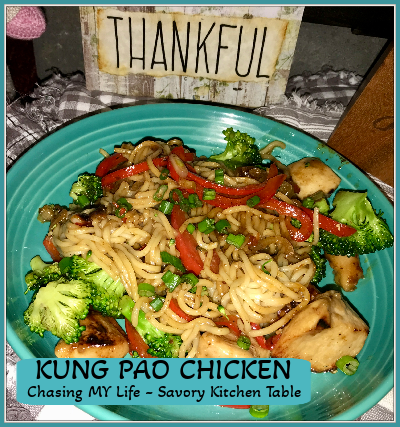 KUNG PAO CHICKEN 
2 teaspoons cornstarch
3 tablespoons Bragg's liquid aminos
3 tablespoons unseasoned rice vinegar
1 1/2 pounds skinless, boneless chicken breasts, cut into 1-inch cubes 
2 tablespoons hoisin sauce 
1 teaspoon sugar 
2 cloves garlic, FINELY minced
One 2-inch piece ginger, FINELY minced
2 tablespoons avocado oil
2 to 3 dried red chile peppers 
1/2 pound green beans or Chinese long beans, sliced on a diagonal into 1-inch pieces 
1 small red bell pepper, seeded and sliced or diced
1/2 bunch scallions, trimmed and sliced on a diagonal 
1/2 teaspoon crushed black peppercorns and coriander seeds 
1/2 cup unsalted roasted peanuts, plus more for garnish (optional)
Cooked Jasmine rice or yakisoba noodles, for serving 
Whisk together the cornstarch, 1 tablespoon Bragg's liquid aminos and 1 tablespoon rice vinegar in a medium bowl.

Add the chicken, then toss to coat and let marinate at room temperature, 20 minutes.

Combine the hoisin, sugar, remaining 2 tablespoons Bragg's liquid aminos, remaining 2 tablespoons rice vinegar and 2 tablespoons water in a small bowl.

Grate the garlic and ginger into the sauce. Stir and set aside.

Heat a wok or large skillet over medium-high heat.

Add the oil, then add the chicken.

Stir-fry 3 to 5 minutes, until browned on the outside.

Add the chiles, green beans, red pepper, scallions whites, peppercorn powder and peanuts (if using) stir-frying 3 to 5 minutes, until fragrant and the veggies are crisp-tender.

Add the sauce and simmer 3-4 minutes until thickened slightly and the chicken is completely cooked through.

Garnish with the scallion greens and additional peanuts.

Serve with the rice or Yakisoba noodles.