We LOVE Mexican food, so this recipe works well into a Mexican themed week. By making Taco Salad, Chili Skillet, Tacos and this Cornbread Tamale pie all back to back I only have to make the meats and parts once and then assemble as needed.

CORNBREAD TAMALE PIE
Avocado oil
1 can black beans, drained and rinsed
1 can fire roasted diced tomatoes, drained WELL
1-2 large bunches green onions, thinly sliced (save some for garnish)
3/4 pound ground beef
3/4 teaspoon ancho chile powder
3/4 teaspoon ground cumin
2 tablespoons unsalted butter, melted
1/4 cup whole milk
1/4 cup cornmeal
1/4 cup flour
1 teaspoon sugar
1/2 teaspoon baking powder
2/3 + cup cheddar cheese (use the +portion as garnish)
1 LARGE egg yolk
FRESH ground sea salt and black pepper
Preheat oven to 450°.
In a heavy duty cast iron skillet drizzle avocado oil over hot pan.
Add beef and generously season with salt and pepper. Cook until browned and completely crumbled. Drain off fat.
In a prep bowl add drained beef to drained tomatoes and set aside.
Wipe out pan.
Add another drizzle of avocado oil when pan is hot again.
Add onions and sauce until soft.
Add cumin and chile powder and stir to blend.
Add beef mixture to pan and stir to coat well. Cook a few minutes until sauce thickens.
Add beans and remaining cheese in last and remove from heat.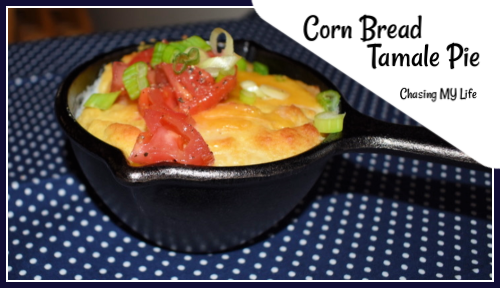 While meat is cooking prepare batter.
Whisk together the melted butter, milk and egg yolk until well blended.
Add the cornmeal, flour, sugar and baking powder blending well.
Fold in half of the cheese.
ASSEMBLY
Spread meat mixture evenly in cast iron pan.
Gently spread the cornbread mixture over the meat mixture.
Put pan in oven and bake 12-14 minutes until cornbread is golden and set.
Cool 5 minutes before serving.
Garnish with cheese and green onions.
ENJOY!