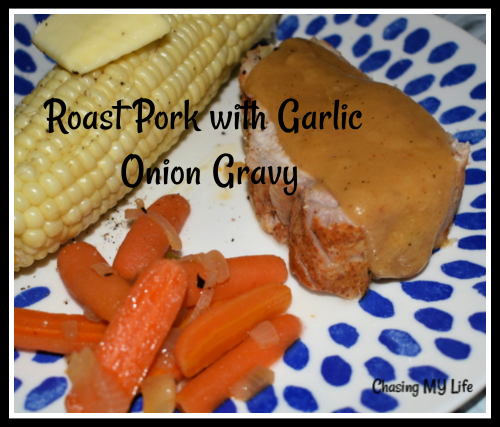 ROAST PORK with GARLIC ONION GRAVY
3-4 pound pork roast
1 bulb garlic, cloves peeled
3 teaspoons Cajun seasoning
1 tablespoon avocado oil
2 shallots, halved and sliced
2 carrots, halved and sliced thin
2 stalks celery, chopped
FRESH thyme sprigs
2+ cups chicken broth (preferably homemade and STRONG)
2 tablespoons Wondra flour
3 tablespoons cold water
Preheat oven to 325°.
Make as many slits in the roast as you have garlic cloves and insert 1 clove into each slit.
Rub roast with Cajun seasoning.
In a heavy skillet heat avocado oil.
Sear each side of roast until browned.
Remove roast from skillet adding to roasting pan.
Add carrots, onions and celery to skillet, sautéing 5-8 minutes until tender.
Arrange veggie mixture around roast.
Top with thyme sprigs.
Add 1 cup of the broth to roasting pan.
Cover loosely with foil.
Roast 45 minutes to an hour (145°).
Remove roast and arrange on platter, tenting with foil and let stand while you prepare the gravy.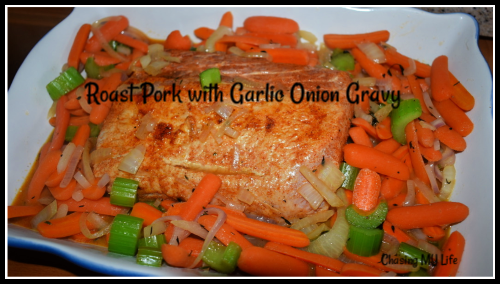 Strain pan drippings through a sieve into a saucepan. Discard solids.
Add remaining broth to drippings.
Whisk together the cold water and Wondra flour.
Add flour mixture to pan drippings, whisking until smooth.
Cook over medium high heat 5 minutes until thickened to desired consistency.