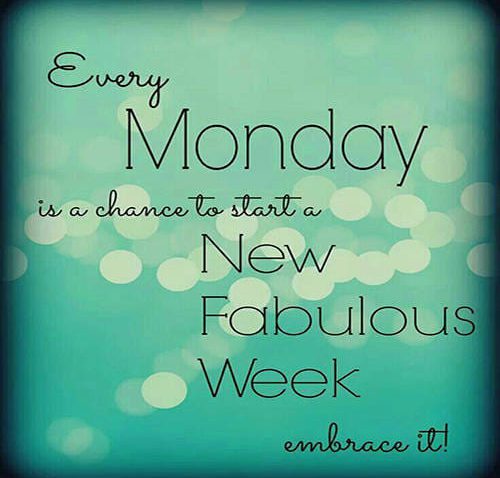 Be sure to join us and link up with
Sandra at Diary of a Stay at Home Mom for Happy homemaker Monday
and with Laura at I'm an Organizing Junkie for Menu Plan Monday.
GOOD MORNING sweet friends.  I hope everyone had a wonderful week.  Can you believe it's August already?  Summer is already half over and I for one am looking forward to fall, one of my favorite seasons! 
We spent a few days away last week researching one of the areas we are considering for our move.  While we were there, a large vintage, antique fair was at the fair grounds.  I made out well with a few antique recipe boxes full of old recipes and some beautiful cruets for my flavored oils and vinegars.

I absolutely LOVE finding old recipe boxes!  Some of the recipes are really unbelievable and irreplaceable finds.  This time I even found some written in old pen and quill type ink – apparently quite old and many of them were signed 😀 And the cruets were bargain priced!
OUTSIDE MY WINDOW & THE WEATHER OUTSIDE & WHAT I'M WEARING This week is going to be about 10 degrees cooler and sunny 😀  I'm going to do some errands and shopping this morning so I have on Levi's and a favorite t-shirt with flip flops

ON THE BREAKFAST PLATE weak coffee with saltine crackers
AS I LOOK AROUND THE HOUSE, WEEKLY TO DO LIST, HOUSE & CRAFT PROJECTS, APPOINTMENTS
LAUNDRY, LIVING AREAS & KITCHEN…

ALL caught up



YARD…

nothing



APPOINTMENTS & TO DO…

one doctor appt for hubby and more sorting and repacking for me



BLOG…

a few new recipes to upload and some ETSY research for a new idea



CRAFTS/PROJECTS…

researching some alcohol painting and homemade inspired gift ideas from the antique show we went to last week.  I also started the Christmas garland (pictures below) and am looking forward to finishing it soon!



ON MY MIND / THINGS THAT ARE MAKING ME HAPPY & FAVORITE PHOTO FROM THE CAMERA I FINALLY was able to get the garland started and am about a third of the way done!!

WHAT IS ON THE DVR, I LIKE OR ON THE LIST TO WATCH/SOMETHING INTERESTING I WATCHED Nothing really, ALL caught up here also.  We did watch Disney's John Carter which was quite entertaining!

I'M READING I finished the Ava Miles series Dare Valley Meets Paris series and have moved on to Karen Ann Hopkins Lamb to the Slaughter Book #1 of the Serenity Plains secrets series.
INSPIRATION

HEALTH & BEAUTY TIPS

HOMEMAKING/COOKING TIP
MENU PLANS FOR THE WEEK
MONDAY – CHILI & CHILE CORNBREAD
TUESDAY – CANTONESE CHICKEN & MUSHROOMS with SNAP PEAS
WEDNESDAY – C.O.R.N. / Y.O.Y.O.
THURSDAY – APPLE ORANGE SALAD & CHIPOTLE ORANGE CHICKEN
FRIDAY – TERIYAKI SALMON & WALNUT COLESLAW
SATURDAY – BALSAMIC BROWN SUGAR BRISKET & ROASTED SALT and VINEGAR POTATOES
SUNDAY – SWEET & SOUR CARAMELIZED CHICKEN and SALAD
SUCCESSFUL RECIPE LINKS FROM LAST WEEK
FEATURED PARTY LINKS FOR THIS WEEK