I was recently watching food network and there was an episode of Molly Yeh's Farm Girl on she made the most amazing sugar cookies – thick AND chewy! I'm usually not a fan of sugar cookies, but she made them look so delicious! As long as I was making cookies, I thought I'd also make this intriguing sounding recipe which is a short cut recipe, but honestly Molly's recipe with no rest or refrigerator time is just as easy 😀 I'll make Molly's recipe again closer to Christmas with snowmen and other cutters.
SEA SALT and VINEGAR POTATO CHIP and CARAMEL CHOCOLATE CHIP COOKIES make 3-4 dozen cookies
1 pouch (17.5 ounce) Betty Crocker Sugar Cookie Mix
1 LARGE egg
1 tablespoon water
1/3 cup butter, melted and cooled
1 bag (8 ounces) Lay's Kettle cooked Sea Salt and Vinegar potato Chips, crushed
Preheat oven to 350°.
Line baking sheet with silicone mat or parchment.
In a large mixing bowl combine cookie mix with melt butter, water and egg until well mixed.
Add crushed potato chips, mixing well.
Drop by spoonfuls to baking sheets.
Arrange 2 or 3 chips on top of each cookie, gently pressing into the dough.
Bake 11-12 minutes until golden around the edges and centers are just set.
Let cool on baking sheet 2 minutes.
Transfer to wire rack and cool completely.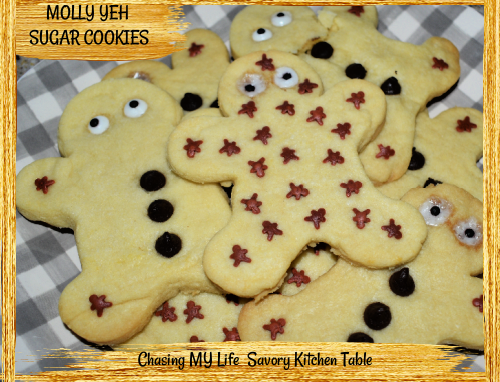 MOLLY YEH SUGAR COOKIES  makes 10-12 large cookies
COOKIES
1 3/4 cups (227 grams) all-purpose flour, plus more for dusting
2/3 cup (75 grams) almond flour
1/4 cup rainbow sprinkles (cylinders)-(optional)
1/2 teaspoon baking powder
1/2 teaspoon kosher salt
1/2 cup (1 stick) unsalted butter, softened
1/3 cup (67 grams) granulated sugar
1/3 cup (40 grams) powdered sugar
Zest from 1 lemon
1 LARGE egg
1 teaspoon PURE vanilla extract
1/4 teaspoon PURE almond extract
Whisk together the all-purpose flour, almond flour, sprinkles (if using), baking powder and salt in a medium bowl and set aside.
Cream together the butter, granulated and powdered sugars and lemon zest in a stand mixer fitted with the paddle attachment until pale and fluffy, 3 to 4 minutes.
Add the egg and mix to combine, and then add the extracts and mix to combine.
Add the flour mixture to the butter mixture, mixing until blended.
At this point you can wrap the dough in plastic wrap and refrigerate for an hour or up to 2 days, or you can get going on rolling out your dough and cutting out your cookies immediately.
If not refrigerating preheat oven to 350°.
Line two baking sheets with parchment paper or silicone mats and set aside.
Roll the dough out on a lightly floured surface to a little less than 1/2-inch-thick, dusting with more flour as needed to prevent it from sticking to the work surface or rolling pin.
Cut out the cookies using your favorite cutters, then use an offset spatula to transfer to a lined baking sheet, 1 inch apart.
Re-roll scraps and cut out more cookies.
Bake until the cookies are just thinking about starting to turn brown, beginning to check larger cookies for doneness at 12 minutes and smaller cookies at 10 minutes.
Let cool on the baking sheets for 5 minutes, then carefully transfer to a wire rack to cool completely.
GLAZE
2 cups powdered sugar, plus more as needed
2 tablespoons light corn syrup, optional (see NOTES)
1/2 teaspoon PURE vanilla extract
Splash almond extract
Pinch kosher salt
4 to 6 tablespoons heavy cream
Sanding sugar, for sprinkling
food coloring, for the glaze
Mix together the powdered sugar, corn syrup (if using), vanilla, almond extract, salt and 4 tablespoons heavy cream in a medium bowl until smooth. It should be very thick but just thin enough that when you lift your spoon it falls off in smooth ribbons. If it's too thick, stir in more cream little by little, and if it's too thin, stir in a few more spoonfuls of powdered sugar until you get the right consistency.
Divide into however many separate colors you need and fill a piping bags fitted with an 1/8-inch round tip with three-quarters of the glaze and decorate.
Sprinkle with sanding sugar if desired.
Let set and enjoy!
These will keep at room temperature in an airtight container for a good few days, but you can also freeze them once the glaze is dry and they'll stay fresher longer!
NOTES: The corn syrup will make the glaze glossy. If you want to omit it, just increase the heavy cream by 2 tablespoons.