The original recipe called for St. Germain liqueur. What does St. Germain taste like you ask? I had to google it myself. It's a combination of tropical fruits, peach, pear, citrus, and even a hint of honeysuckle. I couldn't even find it anywhere locally so I goggled it for another substitution.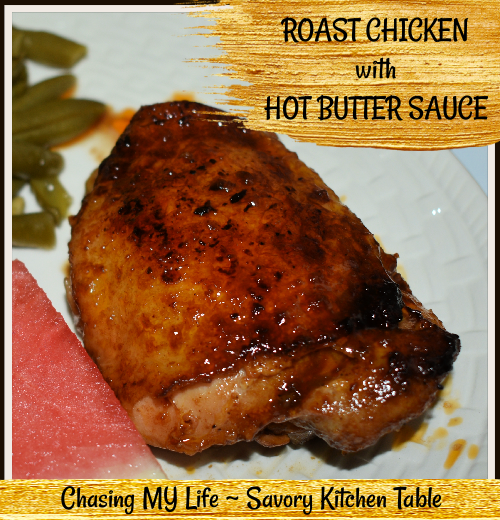 ROAST CHICKEN with HOT BUTTER SAUCE
SAUCE
10 habanero chiles, halved and seeded
1 orange bell pepper – halved, seeded and chopped
2 tablespoons orange zest
4 tablespoons Peach Schnapps
FRESH ground sea salt and black pepper, to taste
2 cloves garlic, FINELY minced
1 cup Champagne vinegar
2 teaspoons cornstarch
2 teaspoons water
4 tablespoons unsalted butter
Puree chiles, bell pepper, orange zest, garlic, 2 tablespoons of peach schnapps, FRESH ground sea salt and black pepper in a small blender.


Transfer mixture to a small bowl.

Cover with saran and let sit overnight or 12 hours at room temperature to ferment.

After fermented and while chicken is baking, puree again with vinegar, remaining peach schnapps.

Strain through a fine sieve into a small saucepan.

Heat over medium heat.

Whisk together the water and cornstarch until smooth.

Whisk cornstarch mixture into the hot sauce. Simmer 2-3 minutes until thickened, whisking constantly.

Whisk in 3 tablespoons of butter.

Adjust seasoning.
CHICKEN
3 pound chicken thighs or leg quarters or combination of thighs and legs
FRESH ground sea salt and black pepper
Preheat oven to 450°.

Generously season chicken pieces.

Melt 1 tablespoon butter in cast iron skillet over medium heat.

Cook chicken skin side down 5 minutes until golden.

Flip chicken and cook another 5 minutes.

Remove chicken pieces to a plate.

Serve with sauce.