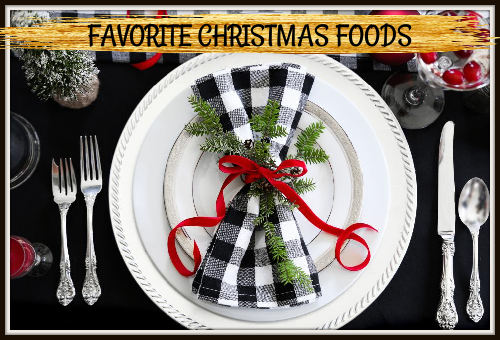 This is a SUPER easy topic for me. The one thing I am noticing as I type each entry is that by doing this, I am remembering so many silly stories and anecdotes about aunts, uncles, cousins and such that keep bringing smiles to my face. These memories are part of what this season is all about to me.
I'd like to say that our table looked just like the one in the picture. Well Christmas day was close, but Christmas Eve was ALWAYS much more casual. One of my earlier memories is of a very warm Christmas Day, a backed up sink/garbage disposal (I don't think we ever had a holiday in that house where the garbage disposal didn't have an issue of some sort) and then having to transport all the prepared food from my parent's house to my grandparent's house via my grandmother's RED (kind of like a Christmas sleigh) Chevy station wagon (remember those?) while my uncle and I sat in the back keeping the food from toppling over.
CHRISTMAS EVE – Served Buffet style since this was the night we did most of the present opening and the adults didn't want to spend all their time in the kitchen – in later years we would have it catered (so to speak – they prepared the food, we picked it up and displayed it) from Rattler's BBQ. We also began to use "FINE CHINA" as hubs calls it aka as decorated paper plates, bowls and napkins.
Sandwich makings – roast beef, ham, cheeses

Potato Salad

See's Candy boxes

Wintergreen ribbon candy

Chocolate covered cherries
CHRISTMAS DAY – This is where we dug out the REAL fine china and crystal as well as the silver and cloth napkins. I loved setting the table for this meal. There were always enough people that we had a KID'S table too. I hated the kid's table – all the good stuff was sitting at the grown-up's table.
Roast Turkey, Baked Ham or Roast Beef

Daddy's Stuffing – now recreated from scratch to taste virtually the same as my Oatnut Sourdough Herb Dressing
Mashed Potatoes

ALWAYS

from scratch – it was those potato peels that were one of the biggest garbage disposal problems

Giblet Gravy

Cranberry Sauce – my family always used Ocean Spray from a can but nowadays we make my homemade sauce ALWAYS

(though our oldest prefers canned sauce LOL 😀 )

– Cranberry Sauce

Baked Ham – in later years it was always HONEYBAKED HAM and I loved making Split Pea soup with the left over bone.

Glazed Carrots

Green Bean Casserole (THEN) Brussels Sprouts Casserole (NOW) 😀

Gran's cranberry salad – she'd make two, one for mom and aunt Liz and one for everyone else.


Rolls and butter

Traditional pies like pumpkin, Cherry and as well as Cherry Pineapple Dump Cake.

See's Candies
When we go to my SIL's family for Christmas (or any other big family get together) we do Hor'deouvres style. The family is so big now that over the years we have found that if each person brings an hor'deouvre to feed 10+ people that we can make a HUGE feast. We just serve it buffet style (skipping the sit down meal) and mingle and play – it is ALWAYS the best time.
CINNAMON BUN CUPCAKES
CUPCAKES
1 1/4 cup all-purpose flour
1 1/4 teaspoon baking powder
1/2 teaspoon baking soda
1/2 teaspoon table salt
1 teaspoon cinnamon
2 LARGE eggs
1/2 cup canola oil
3/4 cup sugar
2 teaspoons PURE vanilla extract
1/2 cup sour cream
Pre-heat oven to 350°.

Line cupcake tins with papers.

Sift flour, baking powder, baking soda, cinnamon, and salt together. Set aside.

Whisk eggs for about 1 minute. They will become frothy and lightened in color.

Add oil and whisk again until combined.

Add sugar and whisk for about 1 minute.

Add vanilla extract.

Add sour cream to the batter, whisking until combined

Now add the sifted dry ingredients to the bowl and whisk gently. Whisk batter until

JUST

until combined.

DO NOT OVERMIX!
CINNAMON SWIRL
1 1/2 tablespoons ground cinnamon
2 tablespoons brown sugar
2 tablespoons white sugar
Make the Cinnamon Swirl: mix 1 1/2 tablespoons of ground cinnamon with 2 tablespoons of brown sugar and 2 tablespoons of white sugar. Set aside.
ASSEMBLY
Now start by pouring about 1 heaping tablespoon of the batter on the bottom of each cupcake tin.

Sprinkle with 1/2 teaspoon of the Cinnamon Swirl mixture.

Top with another heaping tablespoon of batter.

Now, sprinkle another 1/2 teaspoon of Cinnamon Swirl mixture over batter.

Top with another heaping tablespoon of batter.

Using a toothpick, swirl the batter a few times to create a swirl effect.

Top already swirled cupcakes with one final 1/2 teaspoon of the Cinnamon Swirl mixture.

Bake for 10-12 minutes, checking halfway to rotate pans.

Remove from the oven once cupcakes are lightly golden brown and puffed.

Cool 10 minutes.
GLAZE
+/- 1 cup powdered sugar sifted
+/- 2 tablespoons milk
Mix powdered sugar and milk together.
NOTES: There are many factors that will affect your glaze consistency. The brand of sugar you use, whether you use a scale or a measuring cup… If your glaze is too thin and runny, add more sifted powdered sugar and test for consistency again. If the glaze is too thick and not spreading, add a very, very small amount (1 teaspoon) of milk at a time, until you achieve your desired consistency.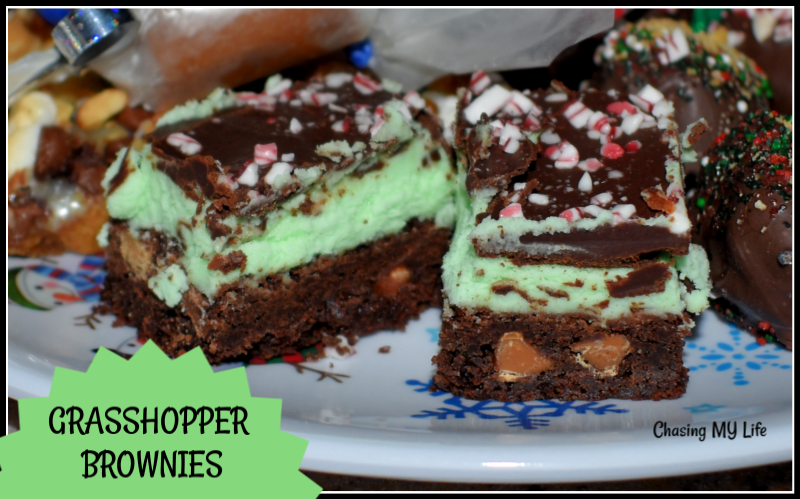 GRASSHOPPER BROWNIES
11 ounce package dark chocolate pieces
1/2 cup butter
3 ounces unsweetened chocolate, chopped
1 cup sugar
2 eggs
1 teaspoon vanilla
2/3 cup all-purpose flour
1/4 teaspoon baking soda
1/8 teaspoon salt
Creme-de-Menthe Filling (BELOW)
Dark Chocolate Ganache (BELOW)
In a medium saucepan, melt and stir 4 ounces (3/4 cup) of the dark chocolate pieces, butter, and the unsweetened chocolate over low heat.
Remove from heat; cool.
Preheat oven to 350°.
Line a 13x9x2-inch baking pan with foil, extending the foil over the edges of the pan. Grease foil; set aside.
Stir sugar into the cooled chocolate mixture in saucepan.
Add the eggs, one at a time, beating with a wooden spoon

JUST

until combined.
Stir in vanilla.
In a small bowl, stir together the flour, baking soda, and salt.
Add flour mixture to chocolate mixture, stirring just until combined.
Stir in the remaining 7 ounces (1-1/2 cups) dark chocolate pieces. Spread batter evenly in the prepared pan.
Bake in the preheated oven for 30 minutes. Cool in pan on a wire rack.
Spread Creme-de-Menthe Filling over cooled brownies.
Place uncut brownies in the refrigerator while preparing the Dark Chocolate Ganache.
Spread slightly cooled Dark Chocolate Ganache over Creme de Menthe Filling, spreading to the edges with a spatula.
Cover and chill about 1 hour or until set. Using the edges of the foil, lift the uncut brownies out of the pan. Cut into bars.
Place brownies in a single layer in an airtight container; cover. Store in the refrigerator for up to 3 days or freeze for up to 3 months.
CREME-DE-MENTHE FILLING
3 ounce package cream cheese, softened
1/2 cup butter, softened
3 cups powdered sugar
3 tablespoons GREEN creme de menthe
Milk (optional)
In a large bowl, combine cream cheese and butter.
Beat on medium speed with an electric mixer for 30 seconds.
Gradually beat in 1 cup of the powdered sugar.
Beat in creme-de-menthe.
Gradually beat in remaining powdered sugar. If necessary beat in 1 tablespoon of additional milk to make the filling slightly thicker than a frosting
CHOCOLATE GANACHE
1/2 cup whipping cream
1 11 ounce package dark chocolate pieces
In a medium saucepan, bring whipping cream

JUST

to boiling over medium-high heat.
Remove from heat.
Add dark chocolate pieces (

do not stir

).
Let stand for 5 minutes. Stir until smooth.
Cool for 15 minutes.
Pour over brownies and

QUICKLY

spread evenly.
NOTE: You can substitute 2 tablespoons milk, 1/2 teaspoon mint extract, and several drops of green food coloring for the GREEN Creme-de-menthe.
~~~~~~~~~~~~~~~~~~~~~~~~~~~~~~~~~~~~~~~~~~~~~~
Here are some of my FAVORITE RECIPE LINKS to make for a crowd. They make some pretty impressive foods and drinks for a buffet table.