ARE YOU READY FOR SOME FOOTBALL? or FOR SOME RACING? or HOW ABOUT SOME OLYMPICS? On this weekend we are doing grazing meals and this recipe I found on Facebook will be perfect!
I found this recipe on Facebook a couple years back and it was written for 4 dips done in a rectangle. Since it's usually just the 2 of us I make much smaller quantities and have adjusted the flavors to our liking. I'll then take the leftovers and mix them together if they are compatible and make another plate for the next day!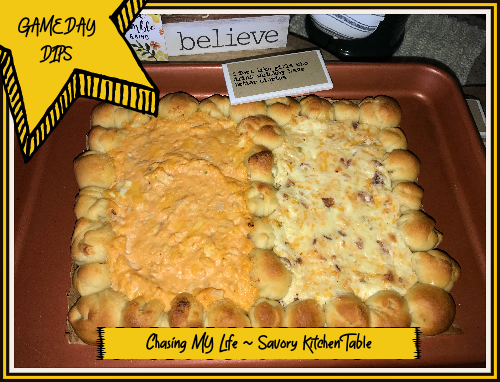 CHEESY GAME DAY DIPS
serves 12 people if you make ALL 4 dips

1 pound of your pizza dough

Avocado oil
BACON and CHEESE DIP
1 3/4 cup sour cream
8 ounces cream cheese, softened
2 1/2 cups shredded cheddar cheese, split
1 cup cooked bacon bits
1/4 cup chopped spring onions
1/2 teaspoon salt
1/2 teaspoon pepper
BUFFALO CHICKEN DIP
2 cups shredded rotisserie chicken
8 ounces cream cheese, softened
1-4 to 1/2 cup Frank's original hot sauce (depending on your level of heat)
1/2 cup sour cream
1 cup FINELY grated cheddar cheese
1 clove garlic, FINELY minced
1 tablespoon FRESH chopped chives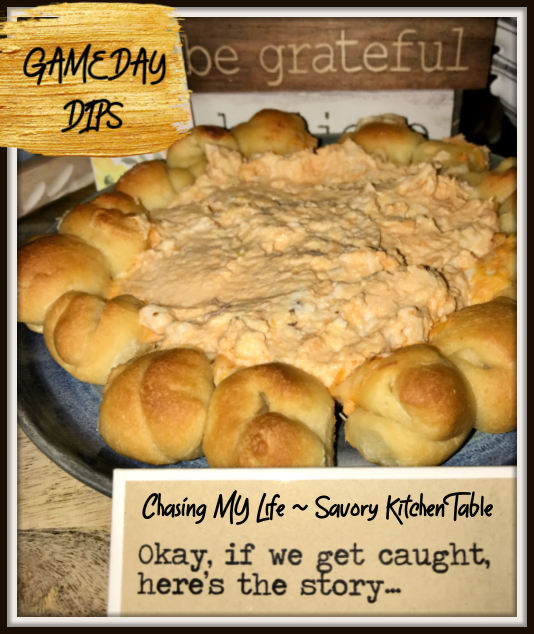 SPINACH ARTICHOKE DIP
8 ounces cream cheese, softened
1/2 cup mayonnaise
½ cup sour cream
1/2 cup chopped artichokes
1/2 cup chopped spinach, thawed
1 cup grated mozzarella cheese
FRESH ground sea salt and ground black pepper to taste
PHILLY CHEESESTEAK
1 cup cooked beef, minced
FRESH ground sea salt and ground black pepper to taste
cooking spray
1 cup diced red onion
1 cup diced red pepper
1/4 cup mayonnaise
1/2 cup sour cream
4 ounces cream cheese, softened
4 ounces shredded mozzarella "provolone" cheese
Pre-heat oven to 350°.

Grease and line a deep sheet pan.

Mix together all ingredients for each dip until combined.

Roll pizza dough into ping pong size balls (20 grams) and place around the edge of the sheet pan and across through the middle to create four equal quarters. If only making 2 or 3 dips adjust your size and shape accordingly.

Spread one dip into each of the areas and smooth out.  

Brush the dough balls with avocado oil and let proof for 20 minutes.

Bake for 20-30 minutes until dough balls are golden brown and dips are bubbling.

Serve while warm, enjoy!