Good morning sweet friends. Saturday was gorgeous here so we made a trip to the Farmer's Market and bought some beautiful carrots and turnips as well as some local BBQ sauce, but Sunday was rainy and dreary so we rented and watched a couple movies, Same Kind of Different as Me and The Darkest Hour. Both based on true stories. They were good and informative for so many different reasons so it was a LAZY Sunday! I did get some future blog posts organized and decided on some link parties to join up with for some new blogs to follow.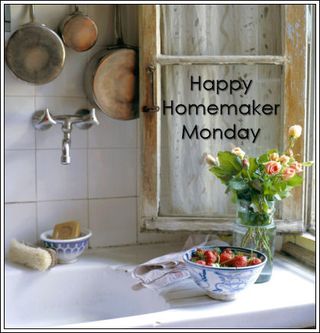 Be sure to link up with Sandra at Diary of a Stay at Home Mom for Happy homemaker Monday and with Laura at I'm an Organizing Junkie for Menu Plan Monday.
OUTSIDE MY WINDOW & THE WEATHER OUTSIDE
Still raining and thunderstorms which will only keep me inside because we're now in the 80's with high humidity. The rest of the week is supposed to be warm, but at least sunny.
ON THE BREAKFAST PLATE
Honey Nut Cheerios, Banana & Green Tea
CRAFTS / PROJECTS
I'm not working on anything right now, but am setting a few projects aside to keep separate from the moving boxes in case the inspiration strikes.
ON MY MIND / THINGS THAT ARE MAKING ME HAPPY
We are so very close to being out of here.  Just a few more medical tests and appointments to get past and the house sale.  I'm not letting that slow me down or stop me though.  I've been getting super organized – right down to using the dishes, pots and pans that I will be donating so I can pack what we're keeping. We took 2 more loads for donation this past week. When we delivered some metal baker rack shelves to Habitat for Humanity someone was purchasing them as we unloaded them – so glad they are going to a good home. We're probably 85% packed and ready to go. I don't want to jinx anything, but it all seems to moving right along! We are SOOOOOOO ready to put THE HOUSE FROM HELL in our rear view mirror!
FAVORITE PHOTO FROM THE CAMERA

I recently did a product review for SILK PLANTS DIRECT and love their products. This is one of the pictures I used in the review. They really do have nice silk plants.
INSPIRATION
AS I LOOK AROUND THE HOUSE / WEEKLY TO DO LIST & HOUSE PROJECTS
LAUNDRY

… Just some routine loads – towels, bedding and clothing

LIVING AREAS

… did a serious deep clean last week so all is pretty tidy


YARD

… we had a couple days rain

free

last week and we were able to re-seed the backyard and replant the barrels to spruce it up for the upcoming sale.


BLOG

… some recipe updating, future post planning and even some holiday post planning
CURRENTLY READING & TV / DVR

COMEDIES
Big Bang Theory, Young Sheldon, Life in Pieces, The Good Place, American Housewife, Living Biblically
MILITARY, POLITICAL & CRIME DRAMAS and a couple that qualify as comedies
NCIS, NCIS New Orleans and NCIS LA, Criminal Minds, Wisdon of the Crowd, S.W.A.T., Madam Secretary, Scandal, Designated Survivor, Brave, Valor, Seal Team, Blindspot, Macgyver, Scorpion, Law & Order SVU, Blue Bloods, Hawaii 5-0, Elementary, Chicago Fire, Chicago PD, Chicago Med, 911
DRAMAS & REALITY

The Good Doctor, This Is Us, The Resident, the Amazing Race just ended and Dancing With the Stars will be beginning
SYFY
Z Nation, the Walking Dead, Flash, Supergirl, DC Legends, Orville, Once Upon a Time, The X-Files, Supernatural

COOKING
Guy's Grocery Games, Beat Bobby Flay, Worst Cooks in America, Bobby & Damaris, Kid's Baking Championship, Master Chef Jr., Master Chef
MENU PLANS FOR THE WEEK with RECIPE LINKS

MON

TUES

WED

THUR

FRI

SAT

SUN

HONEY NUT CHEERIOS, BANANA & GREEN TEA


HONEY NUT CHEERIOS, BANANA & GREEN TEA

HONEY NUT CHEERIOS, BANANA & GREEN TEA

HONEY NUT CHEERIOS, BANANA & GREEN TEA

HONEY NUT CHEERIOS, BANANA & GREEN TEA

SNACK  

2X a day


PROTEIN DRINK


PROTEIN DRINK

PROTEIN DRINK

PROTEIN DRINK

PROTEIN DRINK

PROTEIN DRINK

PROTEIN DRINK

LUNCH

2-4 OZ. PROTEIN


GRILLED CHICKEN BREAST


CHERRY YOGURT


PEACH YOGURT


CHERRY YOGURT


PEACH YOGURT

GRILLED CHICKEN BREAST


GRILLED CHICKEN BREAST


 

DINNER

   2-4 OZ. PROTEIN and small salad

C.O.R.N.    clean out refrigerator night
SPAGHETTI CARBONARA
PAN SEARED BARRAMUNDI
C.O.R.N.    clean out refrigerator night
SHEPHERD'S PIE ITALIAN
 BLK BEAN CHICKEN
RECIPE EXPERIMENT NIGHT
SUCCESSFUL RECIPE LINKS FROM LAST WEEK
HOMEMAKING/COOKING TIP