GOOD MORNING everyone!  I hope you had a GREAT week.  Mine was one of organization.  It was the first one since our trek north that I had the downtime with no appointments or such to get serious about organizing our life.  It was also a necessary event with the holidays fastly approaching!
Be sure to link up with
Sandra at Diary of a Stay at Home Mom for Happy homemaker Monday
and with Laura at I'm an Organizing Junkie for Menu Plan Monday.
OUTSIDE MY WINDOW & THE WEATHER OUTSIDE & WHAT I'M WEARING – It's supposed to be sunny all week and near 60 degrees, BUT it's getting down into the low 30's at night and foggy in the mornings so that sunny 60 degrees ends up happening for all of about 4 hours a day!  I LOVE it though.  I am looking forward to the rain predicted next week. Right now it's only 35 and super gray out still.

I have on Levis with a red, white and blue tye dyed sweatshirt and my fuzzy blue warm socks. 
ON THE BREAKFAST PLATE – Mixed Berry yogurt, a small banana and Green Tea

CRAFTS / PROJECTS – I began a reverse Advent Box for donation after Thanksgiving.  I'm filling it with items like toothbrushes, toothpaste, bars of soap, shampoos, pasta, rices, canned goods, treats and goodies, homemade jars of jam… I'll show a picture during BLOGMAS 2018.  I'm hoping you'll join me for BLOGMAS this year.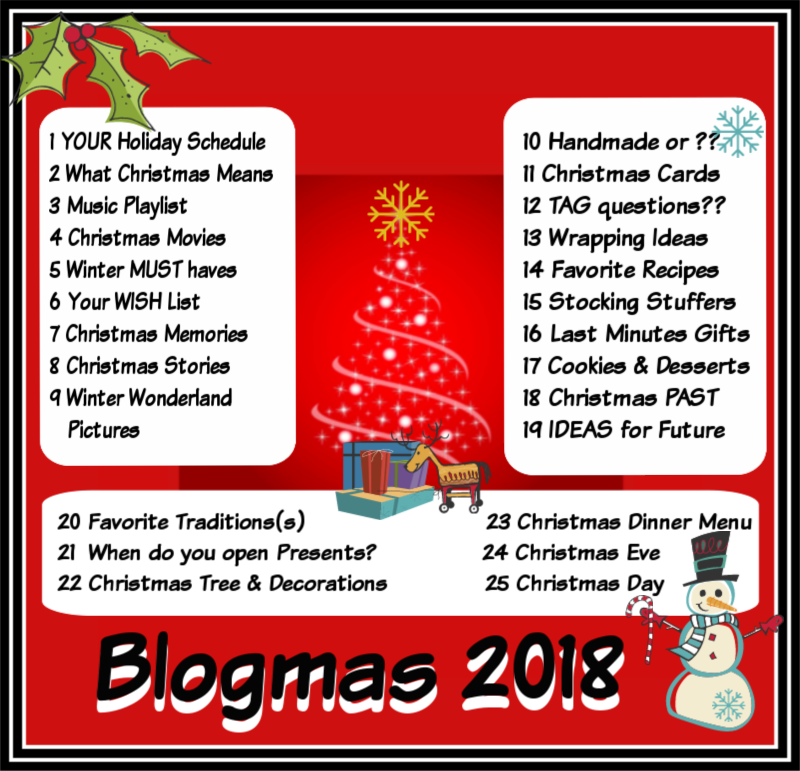 ON MY MIND / THINGS THAT ARE MAKING ME HAPPY – What has been happening in California just during the last week is devastating and I am praying for all of those people in Paradise as well as southern California. Having grown up in southern California I know all too well how devastating fire can be in general, but especially at this time of year with the Santa Ana winds.  I pray the winds CALM down so the firefighters can get a handle on these fires.

Hallmark Christmas movies are here and on my television daily as I work through my day. I've made Chunky Applesauce, Pumpkin Butter and Apple Pumpkin Butter so far in preparation for the holidays.

INSPIRATION
AS I LOOK AROUND THE HOUSE / WEEKLY TO DO LIST & HOUSE PROJECTS /  APPOINTMENTS

LAUNDRY

… just a couple loads of clothing, sheets and towels


LIVING AREAS

… really tidy


KITCHEN

… pretty clean


YARD

… nothing much


BLOG

… some recipe posts, future post planning and holiday BLOGMAS post planning

PROJECTS

… Christmas cards, Christmas gifts


APPOINTMENTS

… nothing this week


TO DO

… baseboards, silk plants, carpets, windows

I'M READING – Vickie McKeehan's Indigo Brothers Series
WHAT IS ON THE DVR OR LIST TO WATCH – I'm trying to coordinate our watch lists on the DVR with the things piling up on Netflix, Hulu and Amazon Prime
WHAT'S IN THE CRAFT BASKET – Christmas cards are in the half made process
HEALTH & BEAUTY TIPS
HOMEMAKING/COOKING TIP
MENU PLANS FOR THE WEEK – I'm trying a few new recipes this week and will post them next week if they are a success. I'm also making an OLD recipe that was originally from my grams, but I have updated over the years.

BREAKFAST

LUNCH

DINNER

DESSERT

MONDAY – FRIDAY

GREEN TEA,

BANANA & YOGURT

CHICKEN or TUNA SALAD

MONDAY

HONEY BBQ CHICKEN LEGS


TUESDAY

TABASCO CHICKEN & BAKED RICE


WEDNESDAY

C.O.R.N. clean out refrigerator night

THURSDAY

CHICKEN CONTINENTAL & BROCCOLI


FRIDAY

GERMAN PORK CHOPS with PASTA & PEAS


SATURDAY

DENVER CHICKEN

SUNDAY

CHILI
SUCCESSFUL RECIPE LINKS FROM LAST WEEK