You'll want to make the Lemon Curd and Candied Lemon slices first so they have time to chill and set up before you need them to assemble the cake.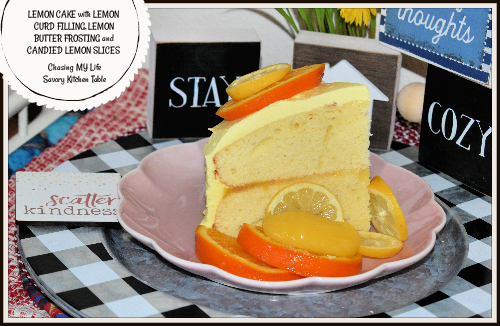 LEMON CAKE with LEMON CURD FILLING, LEMON BUTTER FROSTING & CANDIED LEMONS
LEMON CURD FILLING
1 tablespoon grated lemon zest
1⁄2 cup fresh lemon juice
1 tablespoon cornstarch
6 tablespoons butter
3⁄4 cup sugar
4 egg yolks, beaten
In medium saucepan, mix together lemon zest, 1/2 cup lemon juice and 1 tablespoon cornstarch until smooth.

Add butter and sugar, bringing mixture to a SLOW boil over medium heat.

Boil for one minute, stirring constantly.

In small bowl, with a wire whisk, beat egg yolks until smooth.

Whisk in a small amount of the hot lemon mixture.

Pour the egg mixture into the sauce pan, whisking well until well blended.

Reduce heat to low; cook, stirring constantly, 5 minutes or until thick DO NOT BOIL.

Pour mixture into medium bowl.

Cover with saran pressing so there is contact with the surface to prevent a skin from forming as it cools.

Cool to room temperature.

Refrigerate 3 hours.
CANDIED LEMON SLICES
Candied Lemons are super EASY to make!

1 cup granulated sugar
1 cup water
2 tablespoons FRESH lemon juice
2-3 lemons sliced to 1/8-inch thickness
In a large saucepan, combine the sugar, water and lemon juice. Bring to a boil.

Reduce to a simmer and add lemon slices in a single layer.



Simmer over medium-low for 15 minutes, gently flipping once or twice during the cooking process.



Transfer the lemon slices to a wire cooling rack or waxed paper and let cool.



Let the candied lemons sit at room temperature for up to 24 hours before storing in an air-tight container.
CAKE
2 cups all-purpose flour
2 teaspoons baking powder
1 teaspoon salt
1⁄2 cup butter
1 1⁄4 cups white sugar
3 eggs
1 teaspoon PURE vanilla extract
1 cup milk
Preheat oven to 350°.

Grease and flour two 8 inch round pans.

Sift together the flour, baking powder and salt. Set aside.
In a large bowl, cream together the butter and sugar until light and fluffy, about 5 minutes.

Beat in the eggs one at a time, then stir in the vanilla.

Beat in the flour mixture alternately with the milk, mixing just until incorporated.

Pour batter into prepared pans.

Bake in the preheated oven for 30 minutes, or until a toothpick inserted into the center of the cake comes out clean.

Allow to cool in pans on wire racks for 10 minutes.

Invert onto wire racks to cool completely.
FROSTING
2 tablespoons FRESH lemon juice
1 teaspoon lemon zest
1/2 cup butter, softened
4 cups powdered sugar
2 tablespoons lemon curd
2 tablespoons WHOLE milk
Cream butter.
Add lemon zest and lemon juice.
Gradually add in powdered sugar and 2 tablespoons milk until well blended.
Add lemon curd, blending until smooth.
ASSEMBLY
With long serrated knife, split each cake layer in half horizontally, making 4 layers. THIS STEP IS OPTIONAL! I actually prefer just 2 layers most of the time. 😀

Place 1 layer, cut side up, on a serving plate.

Spread with half of the lemon filling.

Top with another layer, and spread with 1/2 cup frosting.

Press on final cake layer, and frost top and sides of cake with remaining frosting.

Top with candied lemons.

Refrigerate cake until serving time.