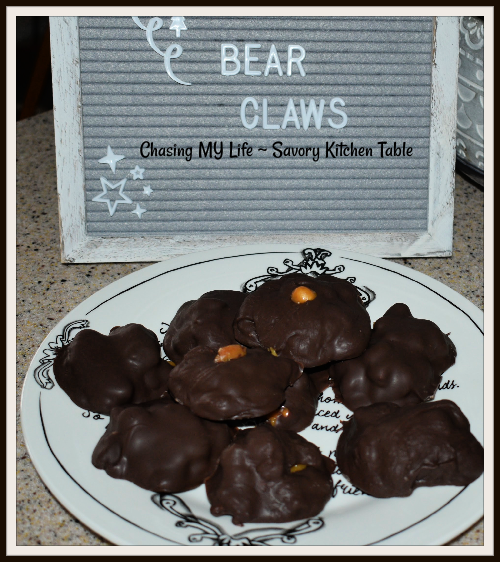 BEAR CLAWS OR PAWS ~ See's Candy COPY CAT – 12 servings
30 KRAFT caramels (238 grams) or 1 (11 ounce) bag KRAFT Caramel Bits
3 tablespoons heavy whipping cream
1 tablespoon butter
1 teaspoon PURE vanilla
1/2 teaspoon sea salt
1 cup peanuts, salted roasted or honey roasted
12 ounces vanilla almond bark for polar or milk chocolate for regular
COARSE sea salt (optional)
holiday sprinkles (optional)
Line a large cookie sheet with Silpat mats or parchment paper and grease it with butter or spray with non stick cooking spray. Set aside.


Melt caramels with butter and cream in the microwave in 30 second increments, stirring, and repeating until completely smooth.


Fold in vanilla, salt and peanuts. Let it sit in the bowl to cool for about 15 minutes, stirring every few minutes.


Spoon onto the mats with a small cookie scoop into mounds. Chill in refrigerator for an hour or until set.


Place almond bark in a bowl and melt in the microwave on low in 30 second increments and stir until melted and smooth.

Dip each caramel cluster in the chocolate to coat.

Holding it over the bowl, tap on the edge to let any excess chocolate drip back down.

Place cluster back on the parchment lined pan and repeat with remaining clusters.


Put the pan back in the refrigerator for an hour or until chocolate is set.

Remove from parchment.

Store in a cool place.