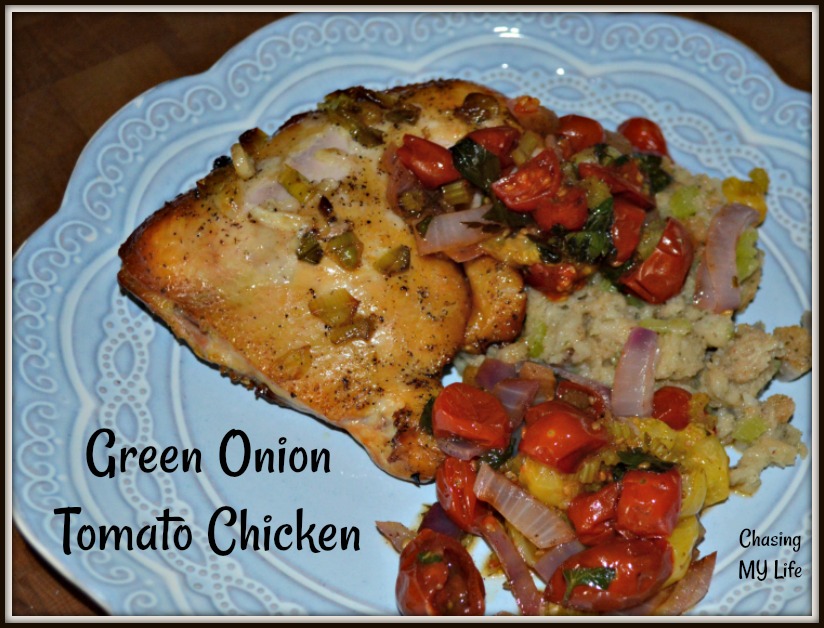 GREEN ONION TOMATO CHICKEN – serves 4
4 whole chicken quarters, bone in and skin on are best
1 cup chopped green onions (1 LARGE bunch green onions)
2 cloves garlic, sliced
1/4 cup apple cider vinegar
1/4 cup avocado oil
FRESH ground sea salt and black pepper, to taste
1 pint grape tomatoes, halved
1/4 cup small torn FRESH Flat Leaf Parsley
Generously salt and pepper both sides of chicken.
In a LARGE ziplock bag place chicken pieces, green onions, garlic, vinegar and oil.
Turn to coat chicken pieces well.
Seal Bag.
Marinate in refrigerator at least 8 hours or overnight.
Heat grill to low-medium.
Using a drip pan place chicken bone side down.
Grill covered 50-60 minutes until cooked through to 175°, turn once at about 35-40 minutes if necessary.
Place tomatoes in a single layer in a foil pan.
Drizzle tomatoes with lemon olive oil.
Sprinkle with FRESH ground salt and pepper.
Sprinkle with basil pieces.
Cover with foil and add to grill during last 15 minutes of chicken cooking time.
Serve over pasta or stuffing.
Top with chicken pieces, tomato and onions.