This recipe originated with Blue Apron.  I've made some hubby induced changes that we like so much better. A few of the changes I made were only technical, but made for a much better texture. The original recipe called for the cheese to be cubed.  I've changed it to slices for a more even melt and the hint of cheese peeking out crisps up and seals the edge of the pork chop. I also traded the tomato paste out for sun-dried tomato pesto and added the crispy shallot rings.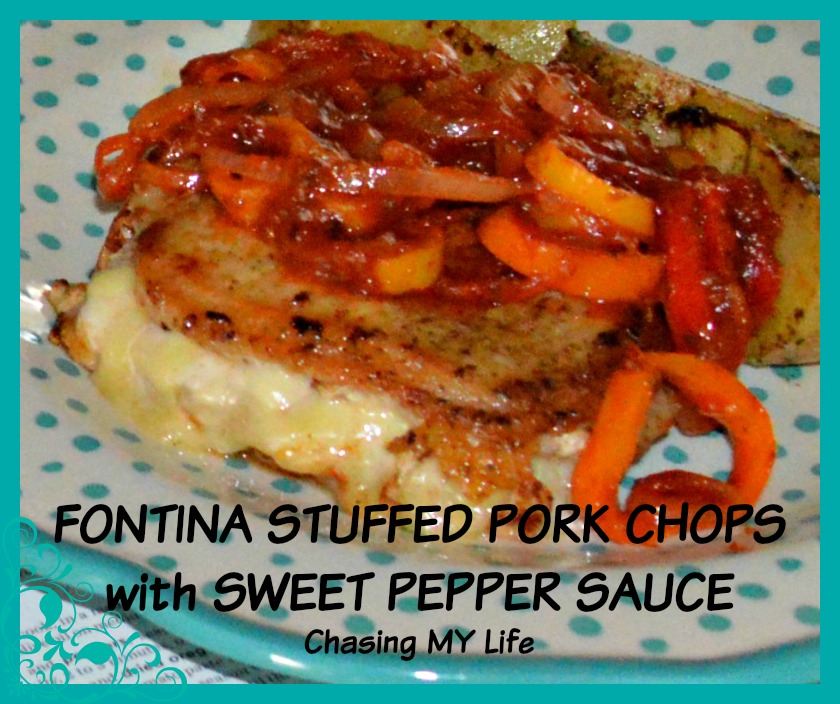 FONTINA STUFFED PORK CHOPS with SWEET PEPPER SAUCE
2 thick boneless center cut pork chops
1 red mini sweet pepper
1 yellow mini sweet pepper
1 orange mini sweet pepper
1 small shallot
2 ounces Fontina Cheese
1 tablespoons Classico Sun-dried tomato pesto
1 tablespoon Champagne vinegar
1/8 cup chicken broth
1 teaspoon oregano
1 tablespoon sugar
3 tablespoons Wondra flour
2 tablespoons rice flour
1 + 1 + 1 tablespoons Avocado oil
Slice the peppers into small rings – discard seeds.
Slice the shallot into thin rings.
Slice the cheese into thin slices.
Dry the pork chops.
Butterfly the pork chops ALMOST all the way through.
Sprinkle fresh ground pepper inside pork chops.
Evenly lay cheese slices inside pork chops with just a hint of cheese peeking out when you close the pork chop.
Season both sides with salt and pepper to taste.
Coat pork chops with Wondra, shaking off excess flour.
Heat 1 tablespoon avocado oil in skillet until sizzling, reduce heat slightly and add pork chops, cooking 4-6 minutes per side or until browned and cooked through.
Add 1 tablespoon avocado oil to skillet over medium high heat.
Add pepper rings stirring until peppers are slightly softened.
Season with salt and pepper to taste.
Add the tomato pesto, sugar and oregano, stirring frequently until tomato paste is deep red and fragrant.
Add the vinegar and chicken broth, cooking until thick and saucy.
Break apart the shallot slices into rings.
Toss shallot rings with the rice flour until thoroughly coated. Tap off excess flour.
Heat remaining oil over medium high heat until sizzling.
Add shallot rings in a single even layer stirring frequently until shallots are browned and crispy. Transfer to paper towels to absorb excess oil.
Plate pork chops and top with sauce and shallot rings.
Enjoy!
Save
Save