I'd been making something similar to Ree Drummond's version of these for several years now that we called stacked tacos. When I saw her recipe in a magazine it reminded me how much we enjoyed these. For some reason they are a cold weather meal for us that we made regularly when we were back east 😀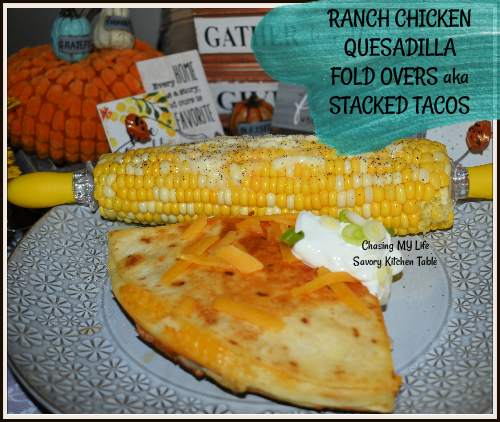 RANCH CHICKEN QUESADILLA FOLD OVERS aka STACKED TACOS
6 strips bacon, cooked and crumbled
1-2 cups rotisserie chicken pieces
2 cups of shredded Mexican blend cheese
1 bunch green onions, thinly sliced
1 batch Jalapeno ranch dressing
4 (8-10) inch flour tortillas
2 tablespoons butter
Salsa, for dipping
Sour cream, for dipping
On each tortilla make a slit from the center to the edge.

Spread a dollop of the dressing over the entire tortilla.

Toss chicken pieces and green onions with the remaining dressing.

Arrange a layer of chicken pieces over one quarter of the tortilla.

Fold tortilla over chicken.

Add a layer of cheese to the quarter of tortilla that overlaps the chicken.

Sprinkle the crumbled bacon over the cheese.

Spread a thin layer of salsa on the next layer.

Fold last quarter of tortilla over the cheese and bacon layer. You should now have a stacked triangle looking quesadilla.

Press down gently to secure the pieces.

Heat butter in large skillet or griddle over medium high heat.

Grill each quesadilla, carefully flipping to toast and crisp until both sides are golden, the cheese is melted and the chicken is heated through.

Serve with salsa and sour cream.
JALAPENO RANCH DRESSING
2 cups buttermilk
2 cups mayonnaise
1 tablespoon onion powder
1 tablespoon crushed parsley flakes
2 tablespoons Penzey's California crushed jalapenos
1 tablespoon garlic powder
1/2 teaspoon salt
1/2 teaspoon celery salt
1/4 teaspoon white pepper
Whisk all together and chill overnight before serving if you have time. The flavors meld together better with time.