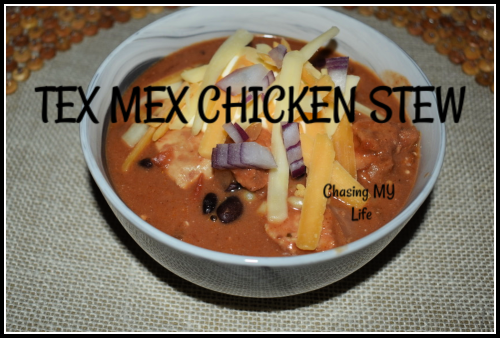 TEX MEX CHICKEN STEW ala SLOW COOKER serves 4
1 small onion, diced
1 tablespoon tomato paste
2 cloves garlic, minced
¾ teaspoon chili powder
½ teaspoon QUALITY honey
1 can ROTEL tomatoes, undrained
15 ounce can diced tomatoes, undrained
2 ounces pickled jalapenos or pepperoncinis
½ cup chicken broth
2 teaspoons WONDRA flour
1 tablespoon avocado oil
1 tablespoon boneless, skinless chicken thighs, cut into bite sized pieces
1 can white shoepeg corn
1-3 ounces cream cheese
1 bunch green onions, sliced for garnish
Spray slow cooker insert with non-stick cooking spray.
Blend together the onions, garlic, canned tomatoes, pepperoncinis or pickled jalapenos.
Whisk together the chicken broth, honey, garlic, tomato paste and chili powder. Blend the mixture into the slow cooker.
Whisk together the avocado oil and flour into a paste. Blend the paste into the slow cooker mixture.
Fold in chicken pieces so they are submerged.
Cook on low for 6 hours.
Add corn and cook another hour on HIGH.
Whisk cream cheese with ½ cup of broth from slow cooker.
Stir cream cheese mixture into slow cooker, cooking for 15 minutes more.
Serve with warm tortillas.
Garnish with green onions.