This is my favorite method of cooking pork tenderloin. Bring the tenderloin to room temperature 30 minutes before cooking. Preheat your oven to 425 degrees. Lightly coat your ovenproof skillet with oil and sear the tenderloin over a medium-high heat and brown all sides. Salt and pepper to taste while searing.
If you're using a glaze, apply it now.  The glaze I like is in the recipe below.
Place skillet in the oven and roast 15 to 20 minutes per pound, until internal temperature is 145 degrees. Remove from the oven, tent the pork with foil and let it rest about 5 minutes before serving. If you don't use a glaze, make a quick pan sauce by deglazing the skillet with chicken broth, wine, fruit juice or another flavorful liquid.
Take its temperature ~ The tenderloin's small size and leanness make it extremely susceptible to overcooking. The National Pork Board suggests cooking to a final internal temperature of 160 degrees, which can be achieved by cooking to 155 degrees and removing the tenderloin from the oven to rest 10 minutes (the temperature will rise several degrees). But, gourmet chef's prefer removing the pork at 145 or 150 degrees (it is perfectly safe at this temperature) and letting it rest for 5 minutes.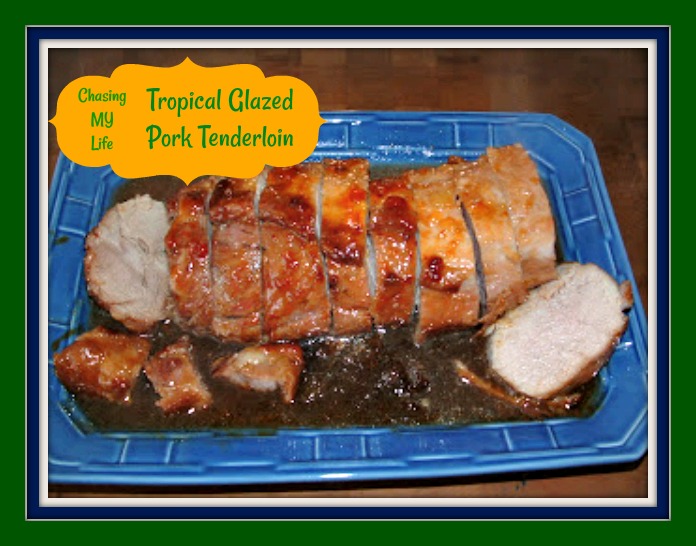 For a glazed version try this recipe:
TROPICAL GLAZED PORK TENDERLOIN
2-3 pound pork tenderloin
1 cup apricot pineapple preserves
1 1/2 cup brown sugar
1/2 cup pineapple juice
Preheat oven to 425 degrees.
Whisk together brown sugar and pineapple juice.
Blend in preserves.
generously salt and pepper the pork loin.
Spread a small layer of the glaze on the bottom of the roasting pan.
Lay the pork loin on top and spread the remaining glaze on top and along the sides.
Baste as necessary
Bake 45 minutes or until meat thermometer reads 150 degrees.
Save